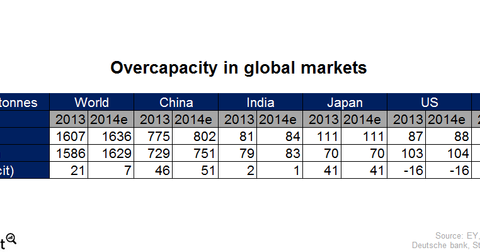 Why a slowdown in Chinese steel production is a good sign
By Mohit Oberoi, CFA

Oct. 3 2014, Updated 12:00 p.m. ET
Slowdown in Chinese steel production is not as bad as it seems
In the last part of this series, we discussed the slow pace of steel production in China. From the perspective of U.S. steel companies, this slowdown is actually a good sign.
Cheap imports have hurt the U.S. steel industry
China's steel production has been higher than its consumption for the past several years. Thus, China produced surplus steel that found its way into global markets. This surplus was partly a result of subsidies that China provides to its steel industry and also China's devalued currency, which makes steel imports cheaper from China. The chart above shows the surplus steel that various regions produce.
Article continues below advertisement
These cheap imports have been one of the biggest woes of steel companies like ArcelorMittal (MT), United States Steel Corporation (X), Nucor Corporation (NUE), and AK Steel (AKS). Since the SPDR S&P Metals and Mining ETF (XME) seeks to invest in these companies, its holding companies also bore the brunt of these imports.
Chinese government plans to cut steel capacity
The Chinese government has signaled that it intends to cut down on excess steel capacity. The ground situation, though, doesn't reflect these intentions. Steel production, as well as steel capacity, continues to increase in China.
The latest steel production data is thus a positive for steel companies in the U.S. A slowdown in production will mean that the Chinese steel that has flooded the international markets will be curtailed to some extent.
Another major steel-producing region, which grew at a slower pace, is the EU. We'll discuss the trend in the EU in the next part of our series.