Recommendation: Look to select areas of emerging market debt
By Rick Rieder

Sep. 1 2020, Updated 11:09 a.m. ET
Select areas of the EM debt sector hold good potential, as many of these countries exhibit low leverage levels and are currently funded through year-end. We prefer hard-currency USD/euro EM bonds and select EM issues that may offer relatively attractive yields.
Article continues below advertisement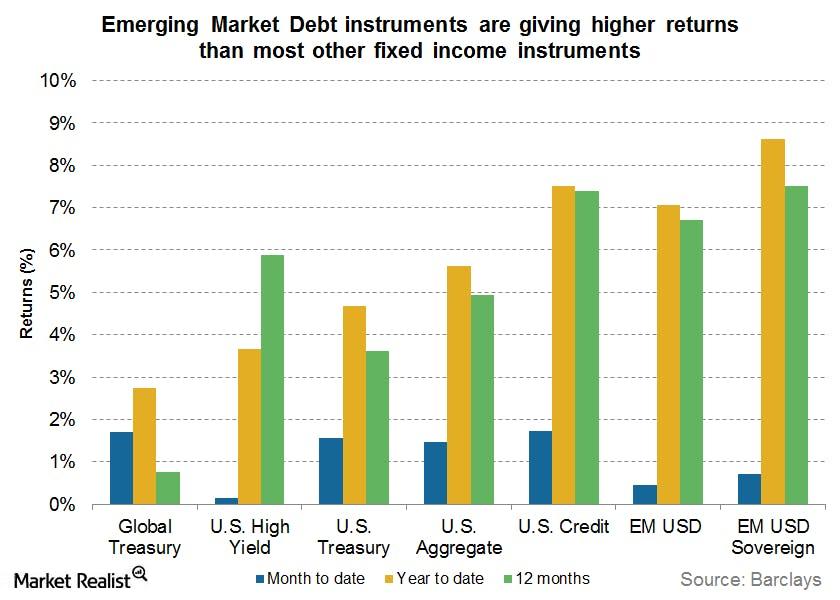 Market Realist – The graph above shows the year-to-date returns for various fixed income instruments, as measured by Barclays indices.
Universal U.S. fixed income indices haven't given very high returns. The U.S. aggregate bond market (BND) has given returns of 5.6% year-to-date. U.S. Treasuries (TLT)(IEF) returned 4.7%, while high yield (HYG)(JNK) returned 3.7%.
On the other hand, emerging market debt (EMB) has given 7.1% year-to-date returns as a whole. Emerging market sovereign debt has given stellar returns of 8.6% year-to-date.
Article continues below advertisement
For a U.S. investor interested in emerging markets (EEM), U.S. dollar–denominated emerging market debt isn't prone to currency risk and local country's changes in interest rates. Local currency–denominated emerging market bonds are. It's more advisable to invest in dollar-denominated bond funds than in local currency–denominated funds.
U.S. dollar–denominated emerging market debt comprises bonds that have been issued in U.S. dollars and not in the local currencies of emerging market nations, like China's (FXI) yuan, India's (EPI) rupee, or Russia's (RSX) ruble.
There are many advantages to investing in emerging market bonds. They exhibit lower correlations with U.S. equities (SPY) and U.S. Treasuries (TLT). This helps increase the diversification in a portfolio and helps smooth out returns. Fixed income instruments are less volatile than international equities (QWLD)(URTH) and emerging market stocks (EEM).
Read our series An investor's key guide to international bond funds to learn more about emerging market debt instruments.
Read on to the next part of this series to see why return-oriented strategies can help bond market investors.