Overview of Walter Energy: The pure-play met coal producer
By Mike Sonnenberg

Oct. 15 2014, Updated 6:09 p.m. ET
Pure-play met coal producer
In Market Realist's series on pure play met coal producer Walter Energy Inc. (WLT), we saw how the company markets itself as a "metallurgical coal producer for the global steel industry." Of the total 2.9 million tons of coal the company sold in 2Q14, 2.7 million tons—or 92%—was metallurgical coal. Metallurgical, or met, coal is used in steelmaking. While Walter Energy is not one of the top coal producers in the U.S., we have included it in our analysis as it's the largest pure-play met coal producer.
In contrast, Cloud Peak Energy derives all of its revenues from selling thermal coal. Other major producers (KOL) such as Peabody Energy Corporation (BTU), Arch Coal Inc (ACI), and Alpha Natural Resources, Inc. (ANR) derive their revenues by selling both types of coal.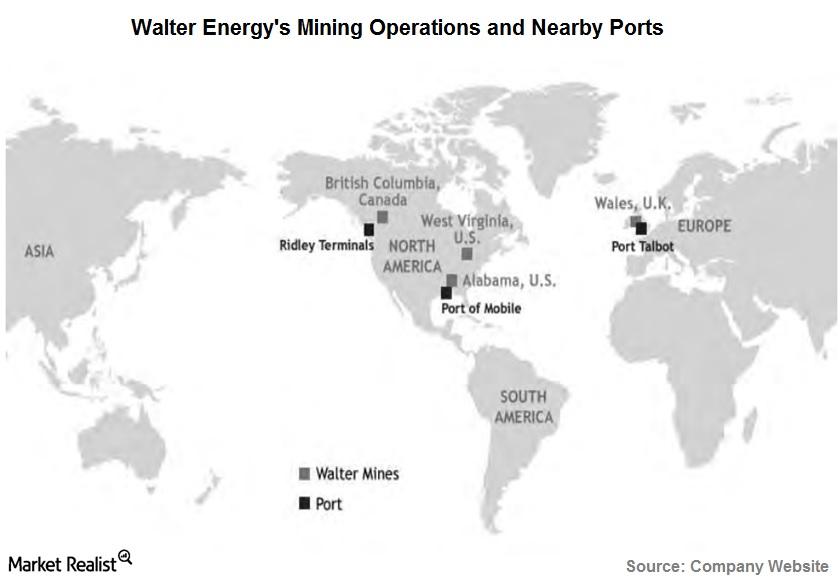 Company operations
Walter Energy has mining operations in the U.S., Canada, and the UK. In 2Q14, the U.S. operations fetched the company $299 million, or 79%, of $378 million in revenues. The remaining $79 million was predominantly derived from the UK and Canadian operations.
Article continues below advertisement
The U.S. operations are concentrated in Alabama and in the Appalachians of West Virginia, where the company mainly runs underground mines. Canadian operations include three surface mines while UK operations include a surface and an underground mine. The company has ~350 million tons of reserves spread across the U.S., the UK, and Canada.
Challenges before Walter Energy
Walter Energy has suffered the most during the weak coal market due to its "pure-play met coal producer" tag. There is a significant oversupply of met coal in the seaborne market even without the recent announcements of idling of mines.
Also, China, where half of the world's total steel is produced, is seeing its economy decelerate. As a result, prices of commodities such as met coal and iron ore are under pressure. The trend is not likely to change in the near future. In addition, Australian met coal producers have logistical advantage over their American counterparts when it comes to supplying China. So, even if China accelerates again, American producers may not benefit to a great extent.
Finally, the company's costly acquisitions in 2011, when times were good, combined with cash losses during the last few quarters, have dented Walter Energy's balance sheet. Read on to learn more.