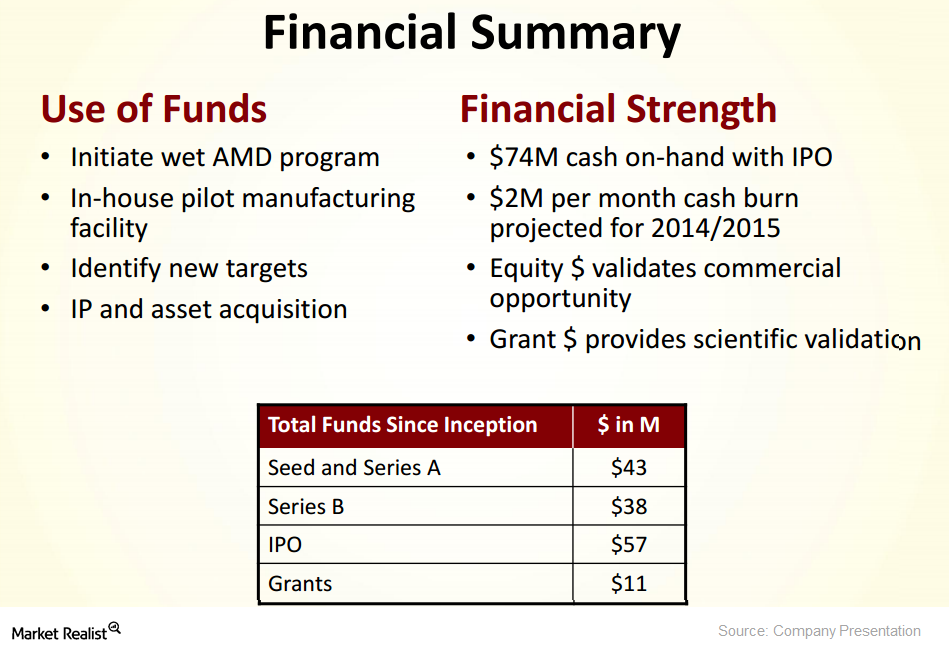 Point72 Asset Management adds position in Applied Genetic Tech
By Samantha Nielson

Nov. 26 2019, Updated 2:11 p.m. ET
Position summary
Steven Cohen's Point72 Asset Management added to its positions in LogMeIn, Inc. (LOGM), AMC Entertainment Holdings Inc (AMC), Bloomin' Brands Inc (BLMN), Insmed Incorporated (INSM), Kraton Performance Polymers, Inc. (KRA), Kindred Healthcare, Inc. (KND), Aegerion Pharmaceuticals, Inc. (AEGR), and Lumber Liquidators Holdings, Inc. (LL). New positions were initiated in Pier 1 Imports Inc (PIR), Stage Stores, Inc. (SSI), CymaBay Therapeutics Inc (CBAY), and Applied Genetic Technologies Corporation (AGTC).
Point72 Asset Management disclosed a new position in Applied Genetic Technologies Corporation (AGTC). An October 13G filing reveals the fund acquired 957,834 shares, representing a 5.8% passive stake in Applied Genetic Technologies.
Overview of Applied Genetic Technologies
Applied Genetic Technologies, or AGTC, is a clinical-stage biotechnology company. The company uses a proprietary gene therapy platform to develop products designed to transform the lives of patients with severe inherited orphan, or unique, ophthalmological diseases.
The company made its trading debut in April and generated net proceeds of $51.6 million.
Article continues below advertisement
Its lead product candidates, which are each in the preclinical stage, are treatments for X-linked retinoschisis, or XLRS, achromatopsia, or ACHM, and X-linked retinitis pigmentosa, or XLRP.  Its lead programs address XLRS and ACHM, which are orphan diseases of the eye that are caused by single-gene mutations. These diseases significantly affect visual function starting at birth and currently lack effective medical treatments.
AGTC expects to file an investigational new drug application, or IND, for the XLRS product candidate. It also plans to initiate phase-one and phase-two clinical trials in the U.S. in late 2014. Initial clinical data is expected in mid-2015.
The company also expects to file an IND for the ACHM product candidate. It will initiate phase-one phase-two clinical trials in the U.S. in early 2015, expecting clinical data in late 2015.
AGTC developing product for wet AMD
AGTC has also begun development of a product to treat wet age-related macular degeneration, or AMD. Using the company's partnerships and experience in ophthalmology, it plans to expand into a disease indication with a larger market. The company says it expects to place a new product candidate for this large market opportunity into development some time in 2015.
AGTC said any product candidate that it develops for wet AMD will compete with established drugs such as Genentech's Lucentis and Avastin, and Regeneron's Eylea, and new drug candidates currently being developed by others, including Genzyme Corp.
Generates revenue from grants
In the three fiscal years ended June 30, 2014, 2013, and 2012, AGTC derived its revenues from grants. Its grant revenue is primarily generated through research and development grant programs offered by federal, state, and local governments and agencies. These include the Food and Drug Administration, and patient advocacy groups such as the Foundation Fighting Blindness and the Alpha-1 Foundation.
Total revenue for the fiscal fourth quarter ended June 30, 2014, was $124,000, compared with $377,000 in the same period in 2013. AGTC said the decline in revenue was primarily due to decreased sponsored research revenue, a decrease related to the timing in milestones achieved. The company reported a net loss of $4.5 million in the quarter ended June 30, 2014, compared with $1.4 million in the same period in 2013.