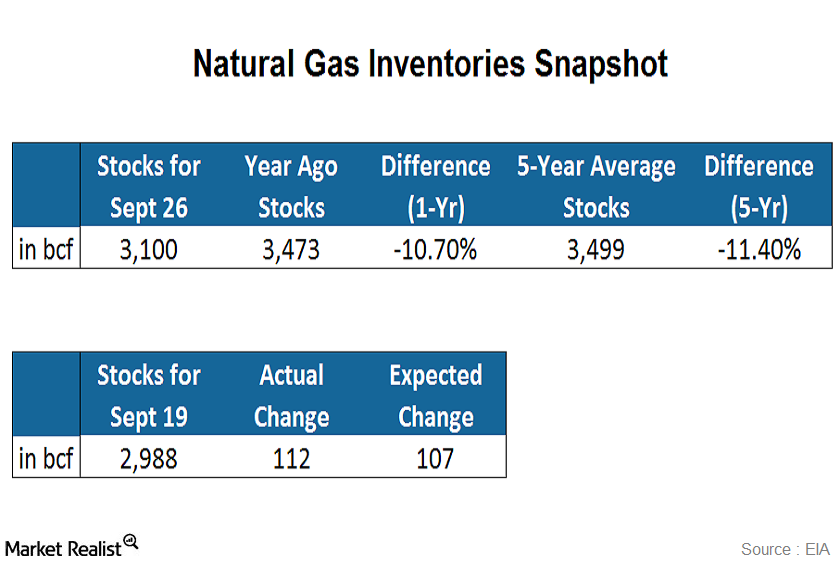 Natural gas inventory figures crush analysts' expectations
Natural gas reports from the EIA
On October 2, the U.S. Energy Information Administration (or EIA) reported a 112 Bcf (billions of cubic feet equivalent) natural gas inventory build for the week ending September 26. Levels are up to 3,100 Bcf.
The triple-digit gain was much higher than analysts' expectations of 107 Bcf, which was already on the higher side.
This week's number was 13 Bcf larger than the 99 Bcf injection last year at this time and 27 Bcf larger than the five-year average.
Current inventory compared to the five-year average
After a severe winter last year, natural gas inventory levels fell to a record ~55% deficit compared to the five-year average in March 2014. However, after heavy additions in the "injection season" so far, deficit levels have currently eased to just 11.4%.
According to the EIA, from the week ending on April 4 through the week ending on September 26, net storage injections totaled 2,278 Bcf. This exceeds 1,773 Bcf for the corresponding 26 weeks last year and 1,685 Bcf for corresponding weeks from 2009 to 2013.
Inventories projected to increase further
The injection season continues for five more weeks until October 31. However in the past 11 years, injection has continued into November as well, according to the EIA.
The EIA forecasts that the end-of-October working natural gas inventory levels will be 3,477 Bcf. As of September 9, this means that an average injection of 75 Bcf per week would be required through the end of October to achieve this goal.
However, this inventory level is still below the five-year average peak storage value of 3,851 Bcf.
Key stocks and ETFs
Changes in natural gas prices affect natural gas producers, and inventory movements affect prices.
Gas producers include Southwest Energy (SWN), EQT Corp (EQT), Cabot Oil and Gas (COG), and EOG Resources (EOG). Most of these companies are components of the SPDR S&P Oil & Gas Exploration & Production ETF (XOP).
Apart from natural gas inventories, Market Realist also covers weekly crude inventory movements. Check out Market Realist's Energy & Power articles to read about last week's crude inventory movements.
Continue on to the following part of the series to find out how natural gas inventory levels affected prices this week.
Article continues below advertisement