National Fuel Gas predicts higher production but lower earnings
By Samantha Nielson

Oct. 20 2014, Updated 1:00 p.m. ET
NPG's forecasts
National Fuel Gas (NFG) said it expects higher production growth, driven by new wells, during fiscal 4Q14. In addition to the nine wells acquired on Pad N in the greater Clermont-Rich Valley area in July, Seneca expects to initiate production in the quarter from an additional 22 wells—16 of which are located in its Eastern Development Area. With this new production, Seneca expects that its daily net production rate in Pennsylvania will exceed 500 MMcfe (millions of cubic feet equivalent) per day.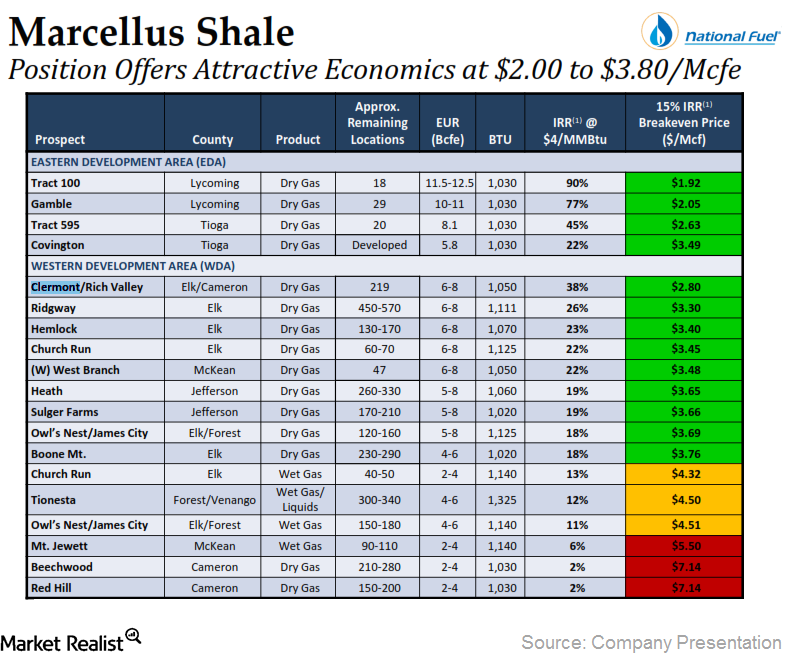 In July, NFG increased its oil and gas production forecast for fiscal 2014 in the range of 160 to 168 Bcfe (billion cubic feet equivalent). Its previous guidance was 155 to 165 Bcfe. This represents a 33% to 39% increase over fiscal 2013 production.
NFG narrows EPS guidance for fiscal 2014
Article continues below advertisement
But NFG recently narrowed its GAAP earnings guidance range for fiscal 2014 to a range of $3.40 to $3.50 per share. The previous earnings guidance had been a range of $3.40 to $3.55 per share. The fiscal 2014 earnings guidance takes into account hedges currently in place and a flat NYMEX price of $4.00 per MMBtu for natural gas and $95 per barrel for crude oil for unhedged production during the remainder of the fiscal year.
Fiscal 2015 production guidance is unchanged but earnings are expected to be flat
The fiscal 2015 production guidance range of 180 to 220 Bcfe remains unchanged. The guidance is based on an assumed flat NYMEX price of $4.25 per MMBtu for natural gas and $95 per barrel for crude oil. Although the NYMEX pricing assumption of $4.25 for natural gas appears to be on the higher side, NFG's management noted on the earnings call that most of its East Division production for fiscal 2015 is committed to firm sales agreements. The majority of these agreements are either fixed-price or backed by financial hedges. So changes in NYMEX are expected to have a minimal impact on the majority of its production.
Normal weather and weaker pricing in the Marcellus Shale factored in fiscal 2015 guidance
NFG's preliminary GAAP earnings guidance for fiscal 2015 is in the range of $3.30 to $3.60 per share. Management stated on the 3Q14 earnings call that, despite assuming production growth, they've provided flat earnings guidance at the midpoint for fiscal 2015. They highlighted the fact that "weather had a very significant impact on fiscal '14 earnings of our regulated businesses." Moreover, "pricing in the Marcellus continues to be weak" and "will remain volatile." So the company expects to evaluate and revise these assumptions going forward.
A fall in prices can also affect the margins of NFG's gas producing peers such as EOG Resources (EOG), Cabot Oil and Gas (COG), Chesapeake Energy (CHK), and EQT Corp. (EQT). Except for NFG, these other companies are components of the Energy Select Sector SPDR ETF (XLE).