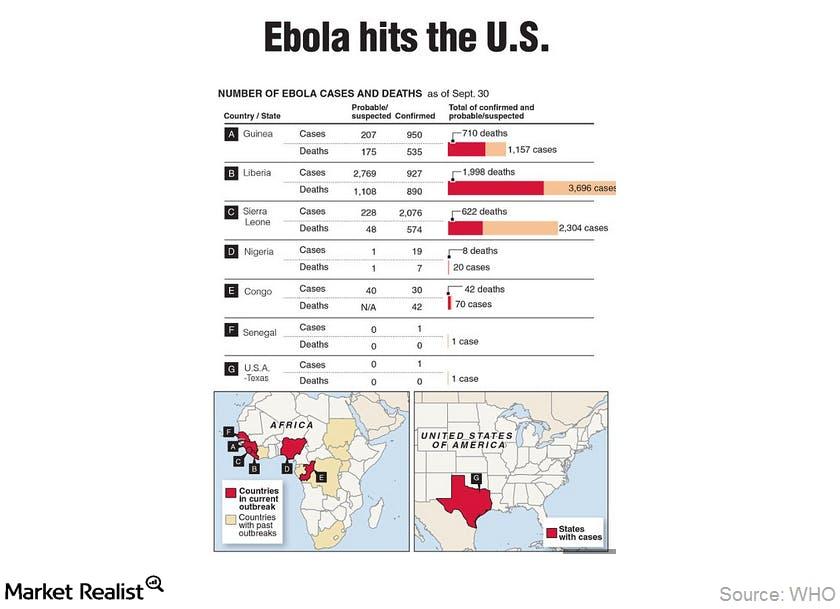 Must-know: Why did Ebola reach the US?
By Teresa Cederholm

Sep. 1 2020, Updated 11:10 a.m. ET
Ebola reached the U.S.
Concerns about Ebola increased in the U.S. after September 30, 2014. Thomas Eric Duncan was the first person to be diagnosed with Ebola virus disease (or EVD) in the U.S. He died on October 8, 2014. He was treated at Texas Presbyterian Hospital in Dallas. Mr. Duncan was from Liberia—one of the widely affected areas in west Africa. He traveled through Washington to Dallas.
Article continues below advertisement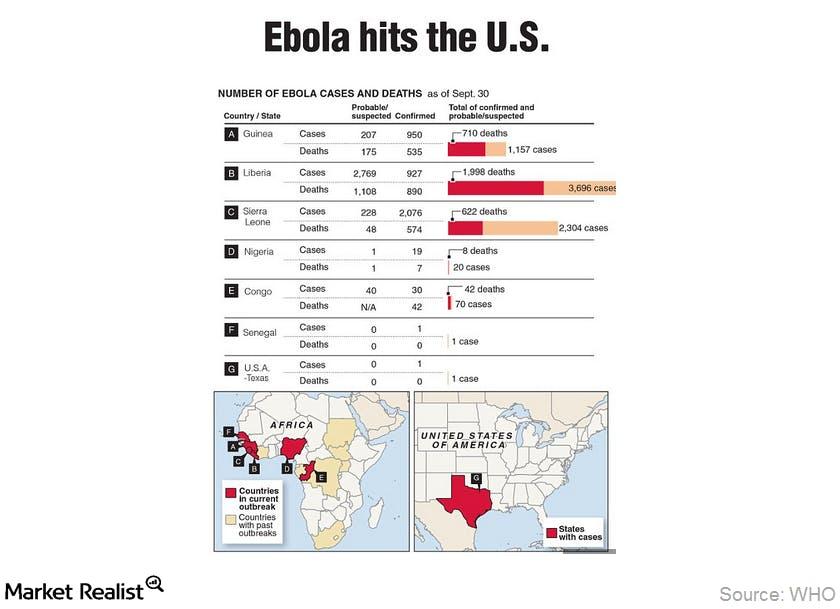 Two healthcare workers were also diagnosed with Ebola. They cared for Mr. Duncan. They were isolated after they tested positive for Ebola. One worker went to the hospital with fever on October 10. The other went to the hospital on October 14. The second healthcare worker traveled on Frontier Airlines from Cleveland to Dallas the day before she tested positive for Ebola.
These incidents increased concerns about Ebola spreading through air travel. The fear spread to the investor community.
Share prices for major U.S. airlines—including Delta (DAL), United (UAL), American (AAL), Southwest (LUV), and JetBlue (or JBLU)—fell drastically since the beginning of October. We'll discuss share price changes in Part 9.
Investors can use exchange-traded funds (or ETFs) to benefit from lower valuations of airline companies' stocks. ETFs can also diversify their portfolio risk. The SPDR S&P Transportation ETF (XTN) is an ETF that holds ~40% in airline company stocks.
Steps taken to prevent transmission
The Obama administration ordered a screening process in five major airports—including Washington Dulles, John F. Kennedy, Newark Liberty, O'Hare, and Hartsfield-Jackson international airports. According to the officials, the screening will cover 94% of passengers arriving from the African nations affected by the virus.
The Centers for Disease Control and Prevention (or CDC) sent a new 16-member team to Dallas to train and provide support in infection control. It sent a ten-member team of professionals on September 30, 2014.
The CDC also organized training and education sessions to prepare hospitals and healthcare workers for treating Ebola patients.