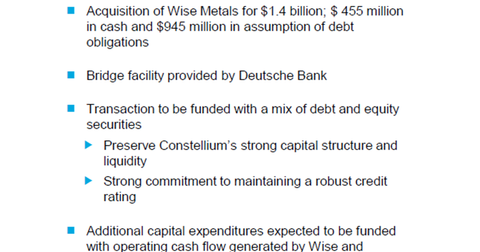 Must know: Impact of Wise Metals deal on Constellium's rating
By Mohit Oberoi, CFA

Oct. 13 2014, Updated 12:00 p.m. ET
Wise Metals Group acquisition
Previously in this series, we looked at how Constellium N.V.'s (CSTM) acquisition of Wise Metals Group could impact the aluminum fabricator's future profits. The size of this deal is substantial, and could potentially impact Constellium's credit rating.
Constellium currently enjoys a high credit rating due to its low leverage and high cash flows. The Wise Metals deal means $955 million in assumed debt for Constellium. Let's see how the company plans to address the potential threat of a credit downgrade.
Bridge financing from Deutsche bank
Constellium negotiated a bridge facility from Deutsche bank to complete the Wise Metals transaction. Bridge financing is a short-term financing arrangement that is put in place until a long-term funding plan is decided. Typically, bridge facilities are used for mergers and acquisitions.
Article continues below advertisement
Constellium expects this deal to be funded through a mix of debt and equity. It also plans to use some cash on its balance sheet. Constellium management will decide on a specific funding plan once it's discussed the acquisition with credit rating agencies. Management wants to protect its healthy balance sheet and liquidity ratios. They don't want Constellium's credit rating to fall a single notch below its current rating.
Importance of credit ratings
Recently, Alcoa's credit rating was downgraded by credit rating agencies. This occurred while the company was raising financing for its Firth Rixson acquisition. But it's not the only company with rating issues. Kaiser Aluminum Corp. (KALU) emerged from bankruptcy just a few years ago. Century Aluminum Co (CENX) also has a low credit rating. A lower credit rating means a company has to pay higher interest rates on its bonds. This increases interest expenses and hurts profitability. The risk of buying a single stock can be mitigated by investing in exchange-traded funds such as the SPDR S&P metals and mining (XME).
Now let's  learn more about Constellium's key financial metrics.