Must-know: Factors moving long and short-term Treasury yields
By Phalguni Soni

Nov. 26 2019, Updated 12:57 p.m. ET
Treasury yield movements in the week ended October 3
As mentioned earlier in this series, Treasury yields usually rise on upbeat economic data and decline when market risks dominate and economic data is negative. Last week, Treasury yields between two and 30 years declined. The largest decline was seen in 10-year (IEF) and 30-year Treasuries (TLT), which fell by nine basis points over the week ended October 3, to 2.45% and 3.13%, respectively.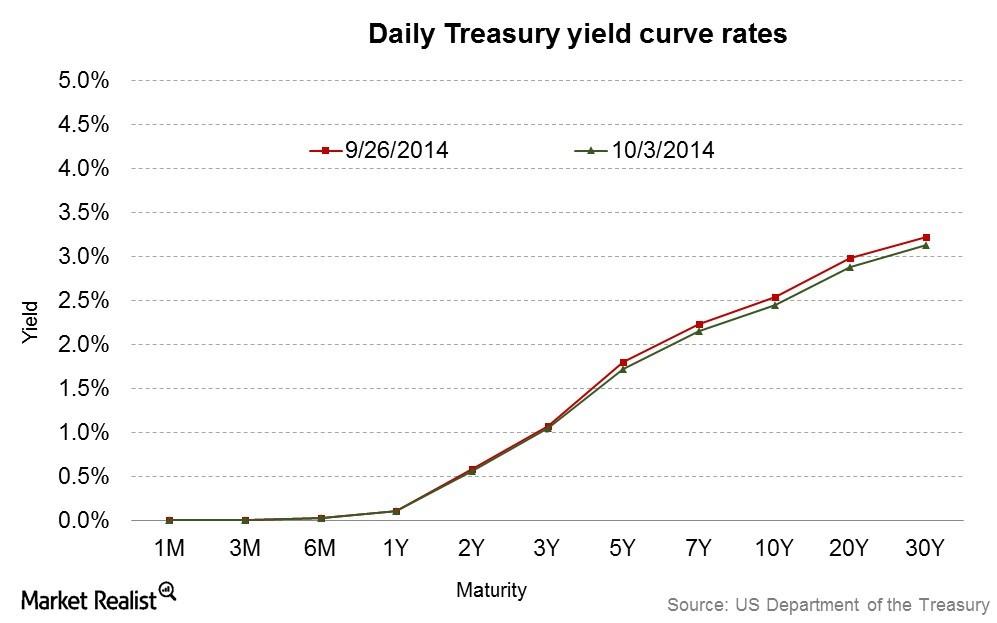 External factors
Article continues below advertisement
Treasuries yields over the week were influenced by a number of factors. Besides weak inflation and housing market data (see Parts 7 and 8), growth concerns in Europe and China weighed down global financial markets, resulting in higher demand for safer U.S. Treasuries. Pro-democracy protests in Hong Kong and the first reported case of the Ebola virus in the U.S. also contributed to market jitters.
Stock and bond markets react
These factors also had the effect of pulling down major stock market indices over the week. Exchange-traded funds (or ETFs), such as the SPDR S&P 500 (SPY), the SPDR Dow Jones Industrial Average (DIA), and the PowerShares QQQ (QQQ), were down by 0.7%, 0.6%, and 0.6%, respectively. Treasury yields declined primarily due to the external factors mentioned earlier, despite relatively bullish economic data.
Bond yields and prices move in opposite directions. Fixed income ETFs, such as the iShares 7-10 Year Treasury Bond (IEF) and the iShares 20+ Year Treasury Bond (TLT), rose by 0.75% and 1.72% over the week, respectively.
Article continues below advertisement
The price increase was greater for TLT than for IEF. Investors prefer longer-dated Treasuries in the face of geopolitical uncertainties and market volatility. The longer duration of TLT also means higher price volatility for a given change in yields. For more on duration and how it can affect your portfolio, read the Market Realist series, Interest rate risk: Measure and avoid the pitfalls of duration.
30-year Treasuries move contrary to trend
While Treasury yields between one and ten-years increased, 30-year Treasury yields declined by two basis points on Friday to 3.13%. This repeats a trend seen in bond markets this year. The long-end of the yield curve was influenced more by external geopolitical factors than domestic economic fundamentals.
The next article will examine how these external factors affect corporate investment-grade bond spreads.