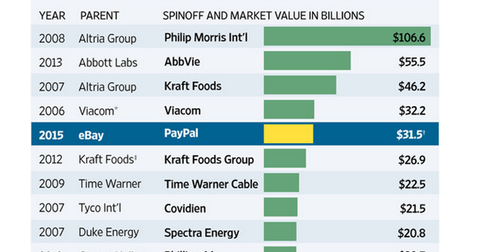 Must-know: eBay announced the spinoff of Paypal
By Anne Shields

Updated
eBay spins off PayPal
Earlier in this series, we discussed that HP split into two companies. On September 30, 2014, eBay (EBAY) announced its decision to spin off PayPal into a separate publicly-traded company. The spinoff will take place in 2015. The transaction should be completed as a tax-free spinoff in the second half of 2015. eBay's shareholders will have access to shares in both the companies.
John Donahoe, eBay's president and CEO, spoke about eBay's decision to spin off PayPal. He said "The industry landscape is changing, and each business faces different competitive opportunities and challenges."

The above chart lists the highlights of the biggest spinoffs since 2005. PayPal is mentioned as a significant spinoff.
Management changes
Article continues below advertisement
After the spinoff, Devin Wenig—the president of eBay Marketplaces—will become the CEO of eBay's new company. Dan Schulman is an American Express (AMEX) executive. He will be joining PayPal. He will be the president and CEO designee for PayPal eBay Inc. John Donahoe is the president and CEO at Bob Swan. He will become eBay's CFO. He will serve on the new independent companies' boards.
Paypal growing rapidly
PayPal revenue grew by 19% to ~$7.2 billion—compared to the same period last year. It has more than 152 million active registered accounts. It's rapidly growing in the digital payments space. Its total payments volume increased by 26% to $203 billion over the last 12 months. Today, it facilitates one in every six dollars spent online. It's fully localized in 26 currencies. It's present in 203 markets worldwide. It also works with 15,000 financial institutions.
With the Braintree acquisition, eBay got access to the new One Touch mobile payments experience. This benefited PayPal. PayPal will lead and innovate the mobile payments space. In 2013, PayPal processed $27 billion in mobile payments volume. It expects to process one billion mobile transactions in 2014.
Rising competition
Amazon.com Inc. (AMZN) and Google Inc. (GOOGL) are expected to start their own payment services. Facebook Inc. (FB) and Twitter Inc. (TWTR) are also looking for ways to get users to purchase items within social networks. They have a partnership with Stripe. Stripe is an online payments processor. This shows that their entry into the payments space will happen soon.
Apple Inc. also launched a mobile payment system for its phones. PayPal is exposed to significant competition. As a result, it needs to be innovative and agile.
Visit the Market Realist Enterprise Software page to learn more.