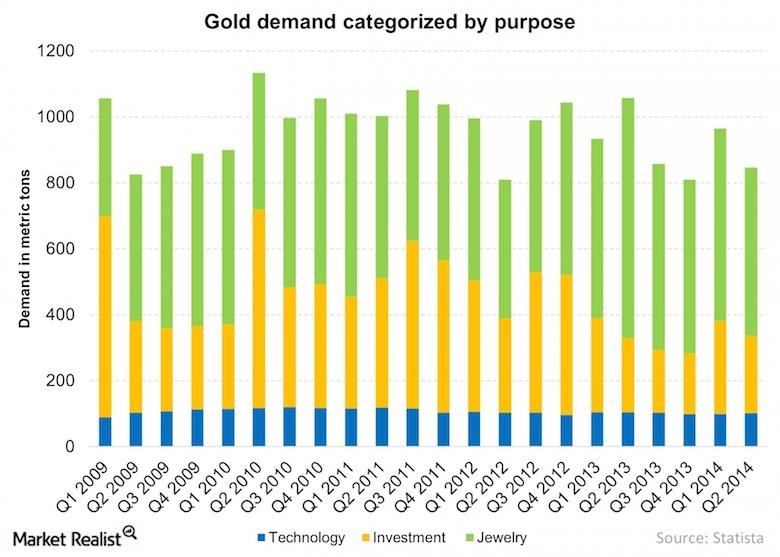 Why demand for gold may be waning around the world
By Russ Koesterich, CFA

Nov. 20 2020, Updated 5:29 p.m. ET
4. Demand for the precious metal may be declining. India is the largest single country consumer of gold, partly for cultural reasons and partly as a hedge against long-term inflation. However, India's money supply growth, a leading indicator for the country's long-term inflation and a proxy for the country's gold demand, hasn't grown lately. Meanwhile, the fraction of total gold output held by central banks around the world has continued to decrease over the last decade and a sharp reversal in this trend is unlikely.
Article continues below advertisement
Market Realist – The chart above shows the global demand for gold (GLD)(IAU) divided by purpose. Investment and jewelry are the two main uses of gold, according to Statista. The demand for gold seems to have waned to an extent since the last four quarters. As the festive season started in India (EPI), which is the largest gold consumer, demand improved in Q4. This change might lend short-term support to gold prices. But the medium-term outlook for gold hasn't changed.
Many global economies (QWLD), including Germany (EWG), have reduced their gold reserves, according to trading economics, in the last few quarters. If this trend continues, gold could face additional negative pressure.
Please read the last part of this series to find out another factor that's pressuring gold prices.