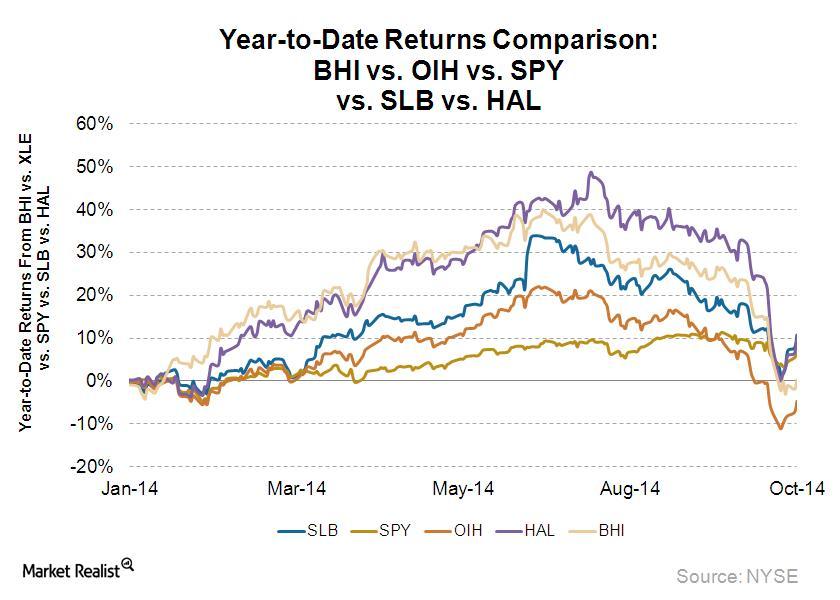 Must-know: Comparing Baker Hughes and its peers
By Alex Chamberlin

Nov. 20 2020, Updated 1:48 p.m. ET
Decreased returns
In 2014, Baker Hughes outperformed the industry and broader market for most of the year. However, it's currently underperforming the broader market index and its peers—Halliburton and Schlumberger . It's still outperforming the industry index. As of October 21, BHI's stock returned ~0.3% year-to-date (or YTD). On an annualized basis, this means a ~0.4% return.
Article continues below advertisement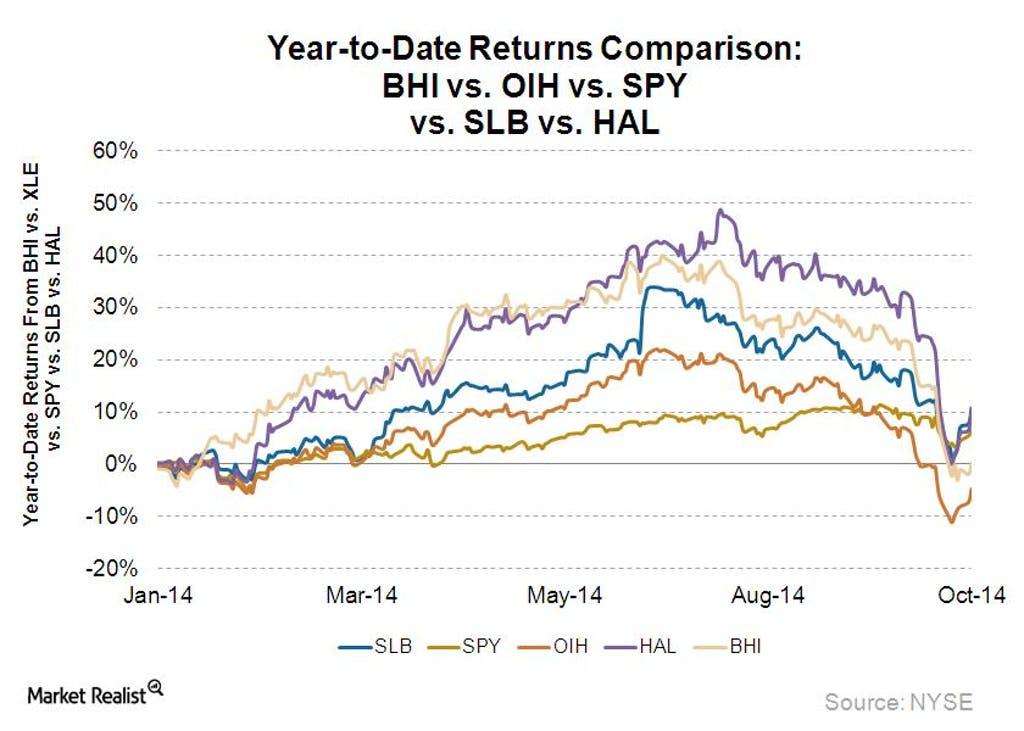 In comparison, the VanEck Vectors Oil Services ETF (OIH) returned -4.7% YTD, or -5.6% annualized. The broad market ETF SPDR S&P 500 (or SPY) is up 6.5% YTD, or ~7.8% annualized.
HAL's and SLB's YTD annualized returns are ~12.6% and 12.9%, respectively. BHI, SLB, and HAL are part of OIH.
Article continues below advertisement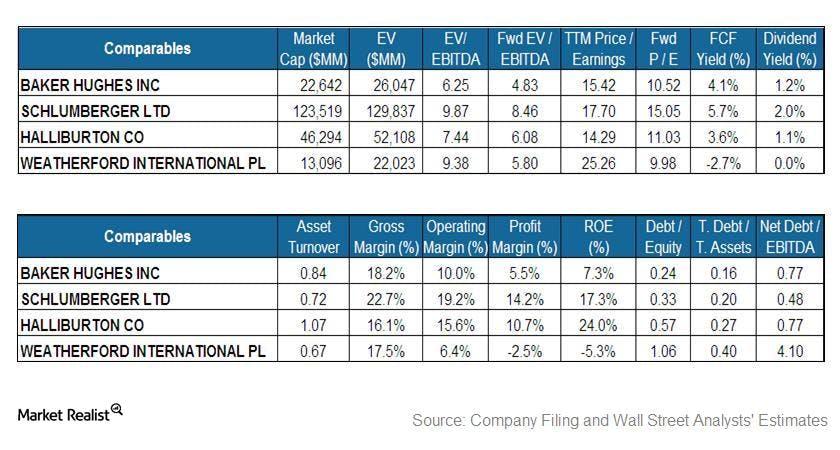 Article continues below advertisement
EV to EBITDA multiple
Baker Hughes (BHI) has the lowest EV-to-earnings before interest, tax, depreciation, and amortization (or EBITDA) multiple at 6.2x. SLB has the highest EV-to-EBITDA ratio at 9.8x.
BHI's gross margin is in line with the best in the group. However, its operating and net profit margin is lower than some of its peers. It also has a low leverage ratio. Its total debt is $4.4 billion. It's the lowest among its peers.
However, SLB has the lowest net debt-to-EBITDA multiple at 0.48. It has a huge cash pile of $6.76 billion. This is the largest in the group.
P/E multiple
BHI's last 12 months (or LTM) price earnings (or P/E) multiple is in line with the group. HAL has the lowest P/E multiple. A higher P/E multiple usually indicates a market expectation for higher earnings growth. It can also indicate superior earnings quality—margins and consistency.
However, for the full year 2014, sell side analysts project that BHI's forward P/E ratio is one of the lowest. Weatherford International (WFT) has the lowest forward P/E. SLB's forward P/E is the highest is the group. Forward P/E considers the sell-side analysts' consensus estimate of earnings for the year. A lower multiple usually indicates strong earnings growth expectations for the period.
The consensus estimated long-term earnings per share (or EPS) growth rate for SLB stands at ~14%. BHI led the group with a ~33% growth rate estimated by the analysts.
Check out Market Realist's Energy & Power page to learn more about what's happening in the industry.