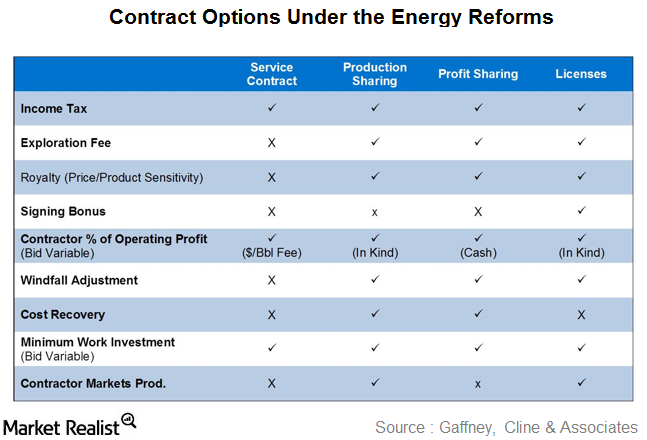 Mexico's Pemex reform: The important new fiscal regime
The new fiscal regime
The new fiscal regime will allow new exploration and production contract models to foreign players, including profit sharing, production sharing, and license contracts.
Interested companies
Companies that have already signed cooperation deals with Pemex include BHP Billiton (BHP), ExxonMobil (XOM), and YPF SA (YPF)
Companies that are likely to enter into above contracts to gain access to Mexico's reserves include Chevron Corp. (CVX) and Royal Dutch Shell Plc (RDSA). RDS.A is a component of the Vanguard Total World Stock Index Fund (VT), while XOM and CVX are components of the Energy Select Sector SPDR ETF (XLE).
T&Cs
Several obligations were required on the government's part while implementing new laws in the secondary reforms. These included changes in their fiscal regime and tax and financial obligations as well as governance and political obligations.
First, foreign investors, including Pemex, need to pay the standard 30% corporate tax to the Ministry of Finance. Second, instead of income tax plus ten additional taxes, PEMEX need only pay three additional taxes. These include:
Article continues below advertisement
Profit sharing tax—which changed from 71.5% to 65% of the spot oil price
Hydrocarbon extraction tax—fees varied on a sliding scale (where variable) and depended on the type of hydrocarbon and international price.
Hydrocarbon exploration fee (surface rental fee)—charged on a monthly basis, depending on the surface area under exploration
Third, the Mexican Petroleum Fund was established. Managed by the Mexican Central Bank, the fund will receive, administer, and distribute the income derived from licenses, profit, and production contracts. The Petroleum Fund will focus on the long-term economic benefits for Mexico.
Fourth, Pemex's pension program saw reforms. Pemex's pension liabilities had been burdening the company and limiting growth opportunities.
Pemex liabilities
In conjunction with the secondary laws, the Mexican government has suggested that it would assume one-third of Pemex's pension liabilities.
But the government's assumption of Pemex's pension obligations is subject to certain conditions, which include Pemex entering into negotiations with the Union of Petroleum Workers (STPRM) to raise the retirement age to 65 years—the same as the retirement age of other Mexican government employees. The retiring age currently is 55 years.
Plus, the union must agree that its pension fund would be audited annually.
The following part of this series discusses the prospects for foreign oil and gas companies as well as Pemex.