Why Marriott's timeshare segment spun off
By Teresa Cederholm

Sep. 1 2020, Updated 9:44 a.m. ET
Marriott's timeshare segment
Marriott completed the spinoff of its timeshare segment to Marriott Vacations Worldwide Corporation (or MVW) in 2011. Timesharing, or vacation ownership, is a method of getting the right to use a vacation property—like a hotel or resort—for a pre-specified time period. The property is available at a fraction of the purchase cost. Click here to learn more about timesharing or vacation ownership. MVW is now operating as an independent company.
Article continues below advertisement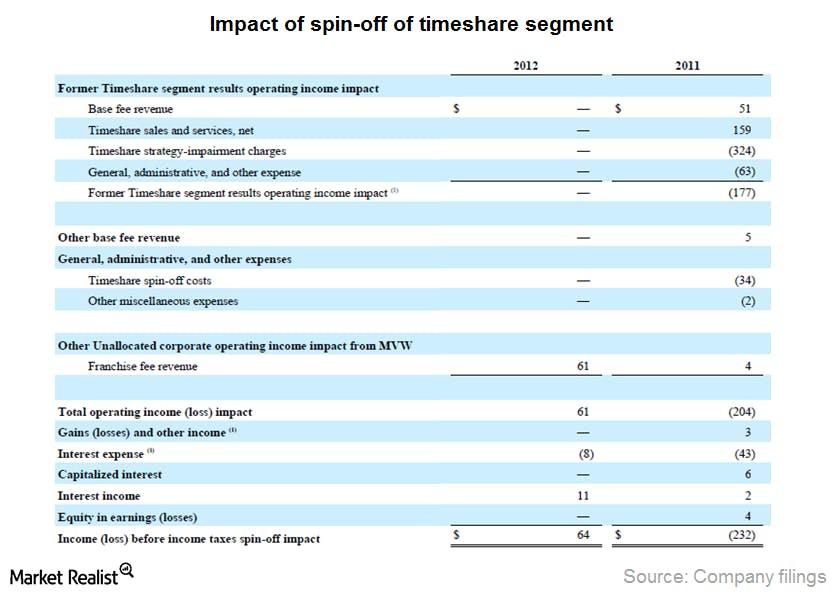 A spinoff is sale of an existing business or division by a parent company. Less productive, unrelated subsidiary businesses or mature businesses are sold so that the company can focus on products and divisions with higher growth prospects.
The new structure should allow Marriott to focus on its core lodging and franchise business. After the spinoff, Marriott no longer includes the timeshare as a separate segment under its consolidated financial statements. The spinoff resulted in a $177 million operating loss in 2011.
License agreement with MVW
Article continues below advertisement
MVW still has license agreements with Marriott—even after the spinoff. MVW develops and operates timeshare and related products under the Marriott brand and Ritz-Carlton brand. The brands licensed to MVW include Marriott Vacation Club, Grand Residences by Marriott, The Ritz-Carlton Residence Club, and The Ritz-Carlton Residences.
Marriott's competitors' timeshare brands include Hilton's Hilton Grand Vacation, Starwood's (or HOT) Starwood Vacation Ownership, Hyatt's Hyatt Residence, and Wyndham's Wyndham Vacation resorts.
Marriott receives a license fee—a fixed amount of $50 million. It also gets 2% on the sale price received from the sale of vacation ownership units and residential real estate units. It gets 1% for the resale of such units.
Franchising versus licensing
The franchisor assists the franchisee with branding and marketing. The franchisor also maintains considerable control over business operations. Under a licensing agreement, the company that sells licenses—to use its brand or intellectual property—only has control of how its IP is used. It doesn't have control over the licensee's business operations.
Investors can gain access to hotel companies through exchange-traded funds (or ETFs) like the Consumer Discretionary Select Sector SPDR Fund (XLY) and the PowerShares Dynamic Leisure & Entertainment Portfolio (or PEJ).