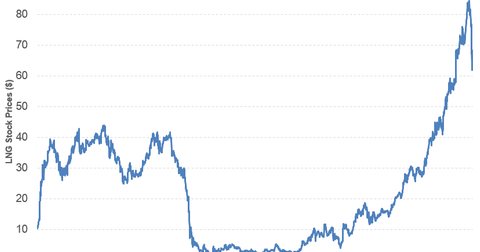 Why the market wasn't always bullish for Cheniere Energy
By Keisha Bandz

Updated
A brief background
Back in 2008, Cheniere Energy, Inc. (LNG) was losing millions of dollars as it took on massive amounts of debt to build three liquified natural gas, or LNG, import terminals along the Gulf Coast.
New domestic natural gas supplies began to surge in 2008—a landmark year for U.S. oil and gas. Production went through the roof thanks to new technologies such as hydraulic fracturing. So, crippling debt and rapidly falling stock prices threatened to bankrupt the company.
Article continues below advertisement
Recognizing there was no need for LNG in the U.S., Chenier's CEO, Charif Souki, opted to switch from importing LNG to exporting it. This was an ambitious decision given the need for regulatory approval before the company could begin exporting LNG. Souki also had to consider Cheniere's already-huge debt load, and the extra time and billions needed make the switch.
But the brassy decision was ratified in 2011. The Department of the Environment, or DOE, granted Cheniere the authority to export LNG to countries without U.S.-free trade agreements. So countries including Japan, India, China, Korea, and most of Europe become the primary LNG markets to target.
DOE's approval gave Cheniere a distinct market advantage. Companies such as Exxon Mobil Corporation (XOM), El Paso Pipeline Partners, L.P. (EPB), and Sempra Energy (SRE) continue to struggle for permits. But today, Cheniere is the undisputed leader in the United States' promising new energy sector—LNG.
Most investors would likely agree that the decision to reverse its approach, and export rather than import natural gas, was the best decision Cheniere ever made.
Key ETFs
Cheniere is a component of the Vanguard Total World Stock Market ETF (VT), Global X MLP & Energy Infrastructure ETF (MLPX), and the iShares Dow Jones US Energy Sector ETF (IYE).
Next, find out more about critical investor insights on Cheniere.