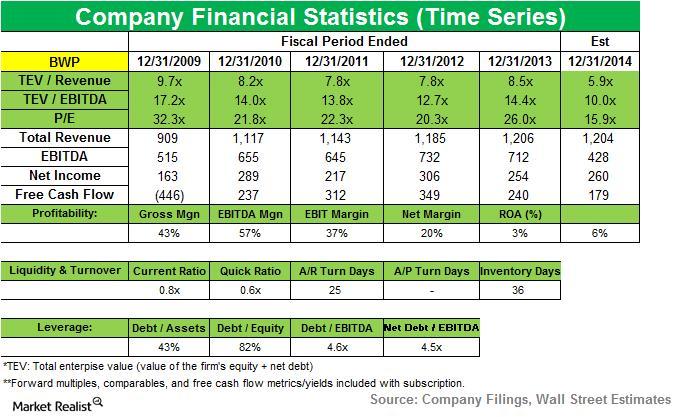 Magnetar Capital exits position in Boardwalk Pipeline Partners
By Patricia Garner

Aug. 18 2020, Updated 6:20 a.m. ET
Magnetar and Boardwalk Pipeline Partners
Magnetar Capital started new positions in Williams Companies (WMB), Actavis (ACT), and Dish Network (DISH). The fund exited top positions in Rosetta Resources Inc. (ROSE), Sirius XM (SIRI), Charter Communications (CHTR), and Boardwalk Pipeline Partners (BWP).
Magnetar sold a position in Boardwalk Pipeline Partners (BWP) that accounted for 1.03% of the fund's 1Q U.S. portfolio.

Company overview
Boardwalk Pipeline Partners (BWP) is a midstream master limited partnership that provides transportation, storage, gathering, and processing services for natural gas and natural gas liquids (or NGL). BWP transports ~12% of U.S. average daily consumption of natural gas.
Article continues below advertisement
The company owns ~14,000 miles of natural gas and NGL pipelines, as well as underground caverns for natural gas and NGL storage. Boardwalk's pipeline systems generally carry gas from the Gulf Coast region, Oklahoma, and Arkansas towards the north and east, to Tennessee, Kentucky, Illinois, Indiana, and Ohio.
Revenues are up on account of favorable market conditions
Boardwalk Pipeline reported that net income decreased by $4.3 million, or 3%, to $167.6 million compared to $171.9 million for the six months ended June 30, 2013. Although revenues were higher in the 2014 period as compared to the 2013 period due to extremely cold winter weather in the market areas, net income decreased overall as a result of a $10 million charge for previously capitalized costs from the Bluegrass Project. The $17 million gain from the sale of storage gas had a favorable impact on the 2013 period.
Operating revenues increased due to favorable market conditions and contract renewals. Storage and PAL revenues were lower by $1.2 million as a result of the effects of unfavorable market conditions on time period price spreads. The increase in operating expenses was driven by an increase of fuel expense of $8.8 million, primarily due to an increase in natural gas prices, a $7.1 million impairment charge from the Bluegrass Project, and a $4.7 million increase in depreciation expense primarily due to an increase in its asset base.
Pipeline growth projects
Boardwalk has five pipeline growth projects: Southeast Market Expansion, Sulphur Storage and Pipeline Expansion Project, Ohio to Louisiana Access Project, Southern Indiana Market Lateral Project, and Western Kentucky Market Lateral project. These projects will further boost the company's revenues and will enhance its capacity.
Boardwalk completes acquisition of Evangeline ethylene pipeline
On October 8, 2014, Boardwalk completed the acquisition of Chevron Petrochemical Pipeline LLC., which owns the Evangeline ethylene pipeline system. Boardwalk Louisiana Midstream (or BLM), a subsidiary of Boardwalk, will operate the Evangeline pipeline. The Boardwalk subsidiary provides transportation and storage services for ethylene and natural gas liquids, natural gas storage and brine supply services for producers and consumers of petrochemicals through two hubs in southern Louisiana.
Boardwalk management said that "Adding these upstream assets strengthens BLM's growth platform and further enhances our ability to provide reliable and flexible ethylene transportation and storage services to petrochemical customers in the growing Gulf Coast market."
To learn more about midstream energy suppliers in detail, visit Market Realist's article on Important drivers behind the drop in Boardwalk's stock price.