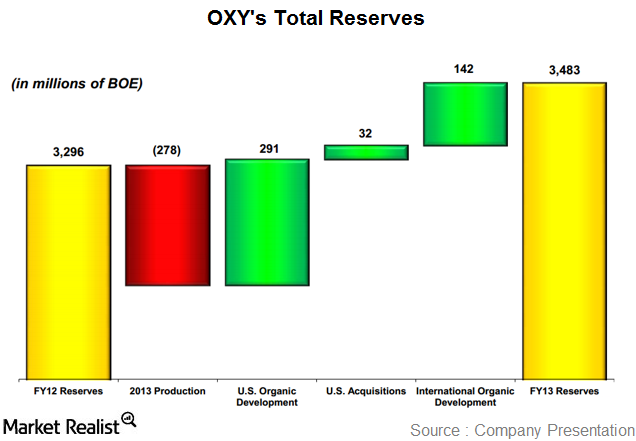 A key overview of Occidental's largest operations for investors
Oil and gas operations
Occidental Petroleum's (OXY) domestic oil and gas operations are in California, Colorado, Kansas, New Mexico, North Dakota, Oklahoma, and Texas. The company has international operations in Bahrain, Bolivia, Colombia, Iraq, Libya, Oman, Qatar, the United Arab Emirates (or UAE), and Yemen.
In the United States, Occidental Petroleum's (OXY) business is concentrated in the Permian Basin, California, and the Mid-Continent region. The company's international operations are primarily in the Middle East, North Africa, and Latin America.
According to this year's 10K, OXY's proved oil and gas reserves as of 2013 were 3,483 MMboe (million barrels of oil equivalent). Proved reserves at year-end 2012 were 3,296 MMboe. Proved reserves are volumes of oil and natural gas that the company can recover from known reservoirs.
As the chart above notes, OXY's proved reserves in 2013 increased majorly as a result of U.S. and international organic development as well as U.S. based acquisitions.
Major operations in the Permian Basin
According to the 10K, OXY is the largest producer of oil in the Permian Basin with approximately 16% net share of the total oil production in the basin. The company held approximately 1.9 million net acres in the Permian Basin at the end of 2013.
OXY conducts its Permian Basin operations through two business units. The Permian EOR (enhanced oil recovery) segment includes CO2 and waterfloods, and the Permian Resources segment includes growth-oriented unconventional opportunities.
We'll discuss OXY's Permian operations in greater detail in the following part of this series.
Major operations in California
Occidental's California operations include interests in the San Joaquin Valley, the Wilmington, other fields in the Los Angeles Basin, and the Ventura and Sacramento Basins.
California operations focus on waterfloods, steam floods for heavy oil resources, and unconventional and other developing plays.
Other major operations
This segment includes interests in the Hugoton Field, the Piceance Basin, the Williston Basin (Bakken), the Eagle Ford Shale, and other areas in southern Texas.
Occidental holds ~2.3 million net acres in the Mid-Continent region, and approximately 176,000 net acres in southern Texas, including 4,000 net acres in the Eagle Ford Shale.
Plus, Occidental holds approximately 335,000 net acres of oil-producing and unconventional properties in the Williston Basin's Bakken, Three Forks, and Pronghorn formations.
Key ETFs
OXY is a component of several key ETFs, including the Energy Select Sector SPDR Fund (XLE), Vanguard Energy ETF (VDE), iShares U.S. Energy ETF (IYE), and SPDR S&P Oil & Gas Exploration & Production ETF (XOP).
The next part of this series discusses the major focus areas of OXY's oil and gas segments.
Article continues below advertisement