Key drivers of American Airlines' passenger unit revenue growth
By Teresa Cederholm

Oct. 22 2014, Updated 1:00 p.m. ET
Passenger revenue
American Airlines (AAL) has achieved strong PRASM (passenger revenue per available seat mile) growth of 4.5% in the first half of 2014. Yet the company's ASM (available seat miles) increased 2.6% and its performance in its biggest international market, Latin America, was weak.
American's (AAL) PRASM growth during the period was the second highest in the industry, after Southwest's 6.4%. This is a quick turnaround for a company that just emerged from bankruptcy. American's revenue increased by 8% year-over-year to $21,351 million in 1H14. Delta's (DAL) unit revenue also increased by 4.5%, JetBlue's (JBLU) by 3.5%, Alaska's (ALK) by 2.2%, and United's (UAL) by 1%.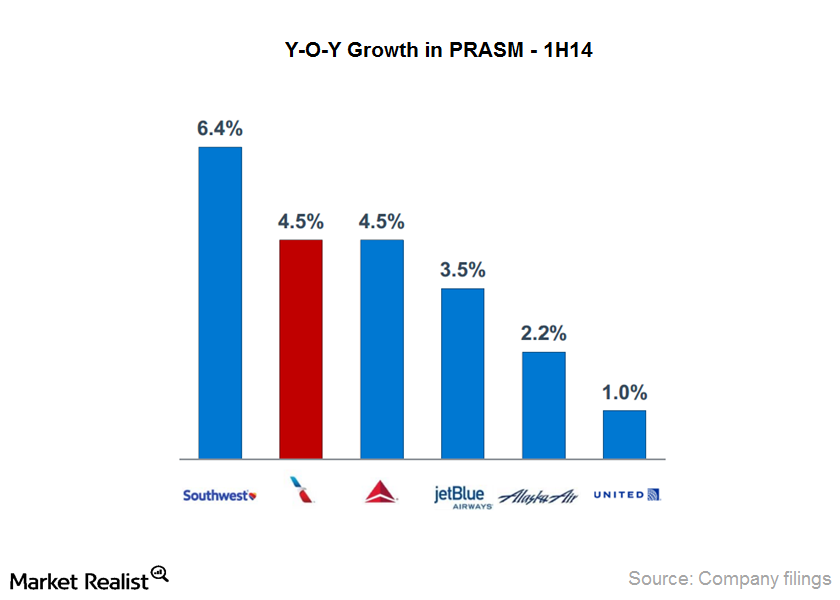 Measures to combat challenges in the international market
The company expects its system-wide 3Q14 PRASM to be up 0.5%–1.5%. Management's 3Q14 PRASM guidance is positive despite some challenges in international markets. The following capacity reduction plans that aim to address issues in these market will improve 3Q14 unit revenue.
Cancellation of flights to Venezuela
In Latin America, American's share of capacity was 53%. But its performance in key markets in the region—including Argentina, Brazil, and Venezuela—has been weak. The company's results were most impacted by problems in Venezuela.
Article continues below advertisement
American and many other U.S. airlines—including Delta and United—have reduced flights to Venezuela, cutting capacity between the U.S. and Venezuela by more than half. This cut was due to currency issues and disputes with the government over the delay in payment of ~$4 billion cash to airline companies. Due to a shortage in dollars, the government hasn't approved the conversion of local earnings to dollars.
Analysts expect the reduced capacity in the Venezuelan market to lower American's PRASM by 1.5% in 3Q14 and by 2% in 4Q14. However, the company expects the system-wide 3Q14 PRASM to be up 0.5%–1.5%.
Reducing excess capacity in other international markets
Higher capacity growth has resulted in excess capacity in American's international markets. Since excess capacity adds to fixed cost, the company has taken measures to cut down capacity in these markets in order to match demand growth. American plans to cut its planned capacity for the second half of the year by 3% in Atlanta and by 5% in Latin America. This move could lead to an improvement in both the company's PRASM and margins.
This cut will also positively benefit ETFs such as the SPDR S&P Transportation ETF that hold airline company shares.