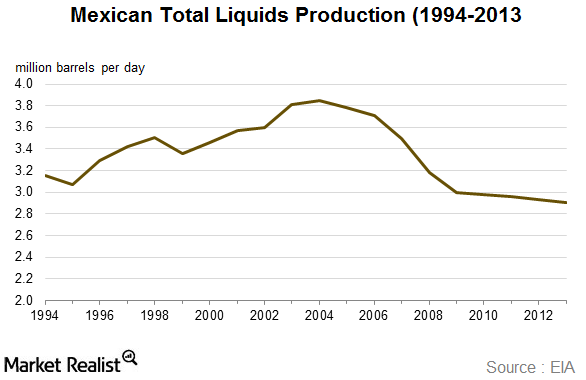 Key analysis: Why Mexico desperately needed energy reforms
By Keisha Bandz

Dec. 4 2020, Updated 10:52 a.m. ET
Need for reforms
Ever since Mexico nationalized its oil industry in 1938, companies such as Exxon Mobil (XOM), Royal Dutch Shell (RDS.A), Chevron Corp. (CVX), and BP (BP) had been prohibited from having stake in the country's oil operations. XOM and CVX are components of U.S. equity funds, including the Energy Select Sector SPDR ETF (XLE).
Things were going pretty well for Mexico until 2004, when its oil production started declining. The decline was as a result of Cantarell's—Mexico's largest oilfield—depleting reserves.
Until 2004, the country had little reason to question its oil industry structure. It was doing just fine with no foreign involvement.
In 2004, however, Mexico's oil production levels were just under 4 million barrels per day. Since then, its production levels started rapidly declining to touch 2.9 MMbbl/d (million barrels per day) in 2013. These levels continue to decline in 2014.
According to the U.S. Energy Information Administration's "International Energy Outlook 2013," production should decline to 1.8 MMbbl/d in 2025 and then struggle to remain in the range of 2.0 to 2.1 MMbbl/d through 2040.
Amid declining production, the Mexican population expanded—from 81 million in 1990 to 112 million in 2013. This caused energy demands to increase.
With declining production, increasing demand, and the company's inability to find and exploit new oil sources thanks to lack of capital, Pemex started facing major problems.
Article continues below advertisement
First, its debt levels continue to increase as a result of the huge taxes it paid. Second, arising from the first problem, without an infusion of funds, Pemex wasn't able to invest in new oil sources. The company's declining financial health was critical because it was a major revenue source for the Mexican government.
These circumstances presented the country with two options. It could either enact reforms that could help meet the demand or become a net importer of oil and gas despite its huge oil and gas reserves.
The following part of this series discusses Mexico's efforts to support its crumbling oil industry.