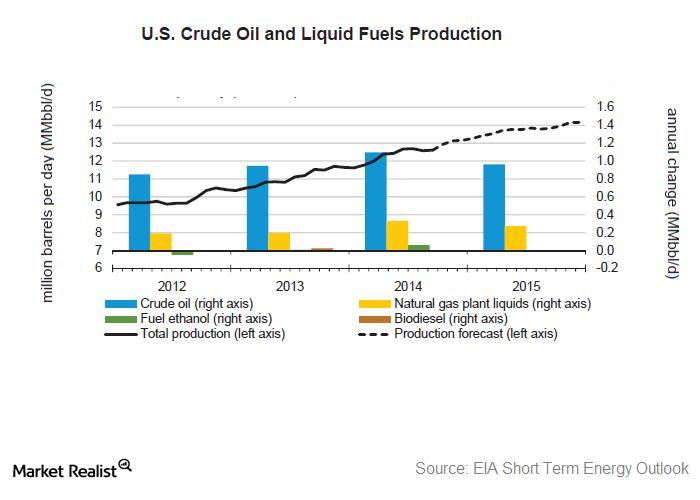 Why investors should watch the EIA's revised crude oil estimates
EIA revises crude oil production estimate
The U.S. Energy Information Administration (or EIA) has recently released its short-term energy outlook (or STEO) for October 2014. In the report, the EIA marginally increased its U.S. crude oil production estimate for 2014. It increased it to 8.54 million barrels per day (or MMbbl/d), or 0.01 MMbbl/d higher than the forecast it made in September.
This is approximately 14% higher than the 2013 U.S. crude oil production of 7.5 MMbbl/d.
In September, U.S. crude oil production averaged an estimated 8.7 MMbbl/d. According to the EIA, this marked the highest annual production since 1970.
EIA decreases its 2015 production estimate
The EIA, however, mildly decreased its 2015 crude production projection to 9.50 MMbbl/d, or 0.3 MMbbl lower than the last month's estimate. The 2015 estimate for production would also be the highest annual production level since 1970.
What fuels crude oil production growth
Article continues below advertisement
The primary factor contributing to the EIA's growth estimate revision was higher production expected from the Gulf of Mexico (or GOM) by 2015. Six projects have already started during 1H14, while five more will likely commence operations by the end of 2014. This will lead to a 23% rise in GOM production by 2015 compared to 2013.
Higher oil production will benefit U.S. oil producers like Chevron Corporation (CVX), Hess Corporation (HES), Marathon Oil Corporation (MRO), and EOG Resources (EOG). Most of these companies are components of the Energy Sectors Select SPDR ETF (XLE).
Is the U.S.'s reliance on crude imports lessening? To find out, read the next part of this series.