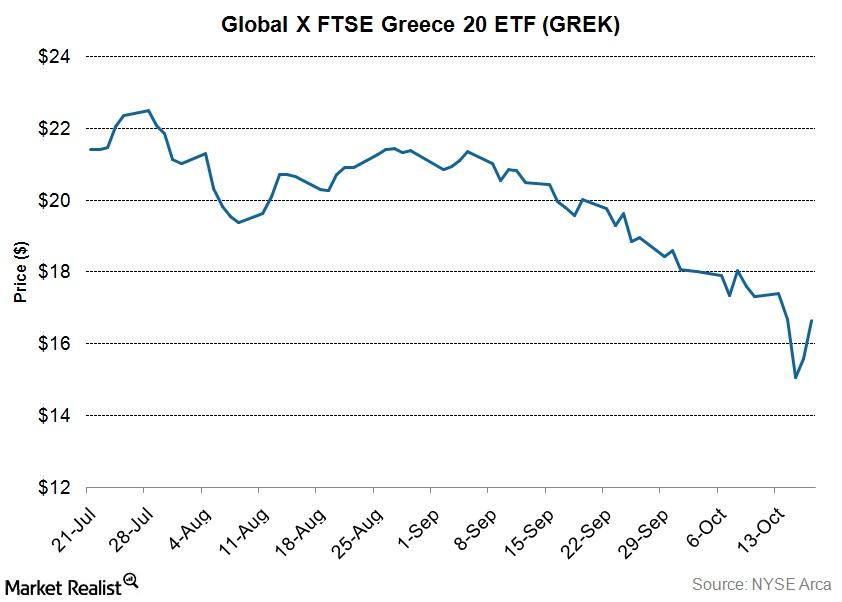 Why are investors becoming bearish for Greek bonds and stocks?
By Surbhi Jain

Nov. 26 2019, Updated 1:45 p.m. ET
Why are Greek bonds and stocks declining?
After four years under a rescue program by the IMF (International Monetary Fund), the EU (European Union), and ECB (European Central Bank), Athens has largely repaired its finances. Since May 2010, Greece has received two successive bailouts, totaling 240 billion euros ($303.8 billion), from the European Commission, the IMF, and the ECB.
On Wednesday, October 15, Greece signaled that it may terminate its IMF program early along with its European Central Bank aid, which ends in December, despite $16 billion left under the deal that lasts until 2016. The country is eager to be free from the tight budgetary and policy auditing that it remains subject to under the aid.
Market reaction
Article continues below advertisement
The Athens Exchange's main index plunged on the news. It lost more than 8.0% on October 15 after having fallen around 6% on October 14. Investors feared that it was very unlikely that Greece would be able to carry out its plans. Although Greece has made strides in fixing its public finances, allowing it to issue debt on international markets, many investors fear that the country hasn't completed the overhauls needed to allow it to stand on its own feet.
The Greek bond market saw the price of its ten-year Greek government bonds tread south, sending yields on these bonds up sharply. The yield rose to 7.7%—its highest level since March—on October 15 from 7.0% the day before. The FTSE Greece 20 ETF (GREK) reflects broad-based equity market performance in Greece.
Who could benefit from an early exit?
The centre-right, socialist coalition government of Prime Minister Antonis Samaras could benefit in tangible and political terms if Greece is able to exit early from its bailout. A December exit would help Samaras's party gain the extra votes the party needs to ensure the election of a president from its party next year.
The strict conditions that the bailout imposed have, up to now, helped the left-wing anti-establishment and anti-austerity Syriza party take a lead in opinion polls.
Greece's political uncertainty is another factor that's making the market for European equities jittery. Exchange-traded funds such as the Vanguard FTSE Europe ETF (VGK), the iShares MSCI EMU Index Fund (EZU), the iShares MSCI Germany Index Fund (EWG), the SPDR DJ EURO STOXX 50 ETF (FEZ), and the iShares MSCI Italy Index Fund (EWI) invest in European equities.
Italian and Spanish long-term government bond spreads have also widened recently, showing greater risks to economic growth and dwindling investor confidence in many of Europe's economies.