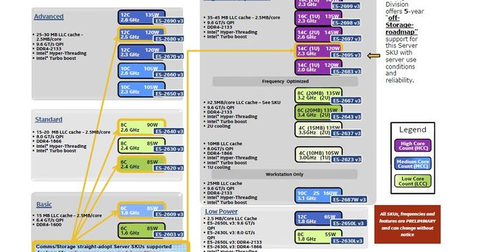 Why Intel's Grantley processor family caters to big data needs
By Anne Shields

Oct. 23 2014, Updated 5:00 p.m. ET
Intel launched Xeon E5-2600 V3 processor
In September 2014, Intel Corporation (INTC) launched the Xeon E5-2600 V3 processor family, codenamed "Grantley." This platform combines new Xeon processors and is focused on integrating new memory, networking, and storage technologies. Intel's peer Advanced Micro Devices, Inc. (AMD) released the Opteron 6300 and 4300 series processors in late 2012. Currently, Advanced Micro Devices acknowledges these processors are one or more generations behind Intel.
Key features
Intel's Xeon E5-2600 V3 series has 22 general purpose stock keeping units, or SKUs. As the above chart shows, these are broken up into roughly six segments—basic, standard, advanced, high core count, frequency optimized, workstation, and low power.
Article continues below advertisement
Grantley is one of the first server central processing units that supports DDR4 memory. DDR4 stands for double data rate and is the latest advancement in memory technology, succeeding DDR3 memory. DDR4 has fewer chips on each module, lower voltages, and superior power efficiency compared to its predecessors DDR3 and DDR3L (low power).
Another key feature of the Xeon E5-2600 V3 processor is that it can run at higher speeds, with additional dual inline memory modules, or DIMMs, per channel. DIMMs consists of series of dynamic random-access memory, or RAM, integrated circuits. Servers are often loaded up with random access memory to handle more virtual machines, or to expand the space available for in-memory storage applications. This requires more DIMMs per memory channel. DDR4 memory is designed to accommodate more DIMMs in a configuration doesn't compromise performance, as seen with DDR3. DDR4 operates on a lower input voltage than DDR3L as well, providing energy savings.
Custom and energy efficient data centers are in demand
In 2013, Intel launched its Ivy Bridge-based Xeon product line and Avoton. Avoton is built to target the micro-server market. Data center companies prefer cheaper micro-server racks with low-power processors. In order to be cost efficient, hyper scale, or biggest data center users, including Google Inc. (GOOG), Facebook Inc. (FB), and Amazon (AMZN), want the best energy-efficient processors in their servers.
According to the New York Times, data centers used 2% of all electricity in the U.S. in 2010. And, this consumption is only expected to rise in the future. In response, Intel has customized its Xeon products for specific customers and workloads.
Recognizing the requirement and importance of enterprise and cloud space, Intel launched Xeon E5-2600 V3 processors. This product is a key part of its data center strategy to provide leadership, features, and performance for computing storage and network workloads. According to Intel, E5 processors form 10% of its dual-processor, or two-socket, volume.