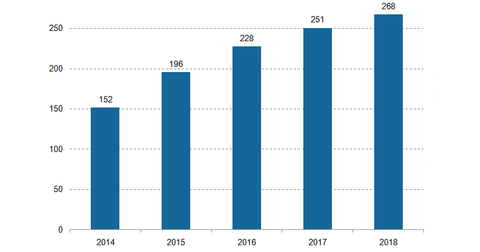 Intel says it will acquire Avago's Axxia networking business
By Anne Shields

Oct. 15 2014, Updated 12:00 p.m. ET
Intel to acquire LSI's Axxia networking business
In August 2014, Intel (INTC) announced its intention to acquire LSI's Axxia Networking Business from Avago Technologies (AVGO), a vendor of analog semiconductor devices, for $650 million. The acquisition will be an all-cash deal. According to PC World, the deal is expected to close by 4Q14.
Long-term evolution (or LTE) is a 4G technology capable of handling high-speed mobile data for Apple's (AAPL) iPhone 5 and other compatible devices. As the chart above shows, analysts expect huge growth in the wireless networking space in the near future.
LSI's Axxia networking business builds SoCs for IoT devices
Article continues below advertisement
The Axxia networking business builds systems-on-chip (or SoCs). SoCs are used within wireless networking infrastructure to connect IoT (Internet of Things) devices. According to Rose Schooler, general manager of the Communications Infrastructure Division of Intel's Intelligent Systems Group, "Intel can help transform networking by providing new technologies and a portfolio of solutions that allow for new innovative services and efficient scaling of a more flexible, cost effective network infrastructure."
This acquisition will let Intel expand into new growth areas as well as strengthen its presence in the IoT space. According to Intel, LSI's Axxia networking business employs about 650 people and generated $113 million in revenue in 2013.
Intel aims to strengthen its position in the wireless networking space
Texas Instruments (TXN), FreeScale, and Qualcomm (QCOM) are leading players in the communication and network processor space. At the end of 2013, Intel acquired Mindspeed's silicon on a chip (or SOC) assets. This acquisition led to Intel having access to radio-access networks (or RANs), where signals from client devices reach cellular base stations and are converted into packets. Through this acquisition, Intel aims to build cloud-based radio access networks.
With Avago's networking business acquisitions, Intel's capabilities as a silicon supplier for mobile broadband infrastructure are expected to improve.
According to the Wall Street Journal, Intel supplies roughly 97% of the microprocessors used in server systems. But it aims to expand in other areas of corporate data centers, including data storage systems and networking devices. Both acquisitions will provide Intel the expertise it requires to ensure solid modem processing capability in server resources.