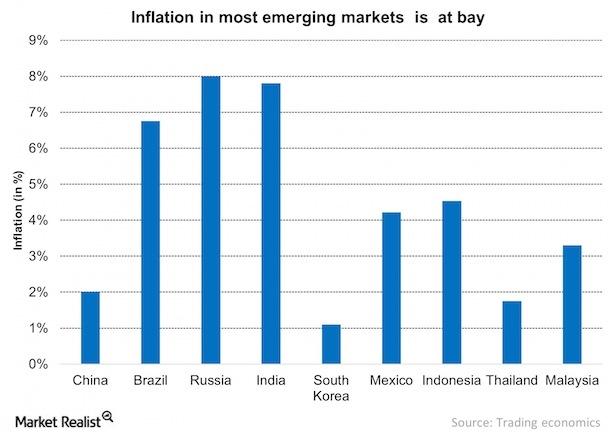 Inflation is tapering down and stabilizing in emerging markets
By Russ Koesterich, CFA

Nov. 21 2019, Updated 4:55 p.m. ET
Inflation that is more under control, as evident in stabilization of countries' inflation expectations. Brazil (EWZ) and India, in particular, are still struggling with stubbornly high inflation due to supply-side factors. This is partly why Brazil's central bank is busy hiking rates despite the country's growth challenges. This is also why the market viewed the appointment of famous economics Professor Raghuran Rajan last year, to lead the Royal Bank of India as a game changer that could help restore confidence in India's macroeconomic management and help buttress the central bank's credibility in fighting inflation.
Article continues below advertisement
Market Realist – The graph above shows the current inflation rates in major emerging markets (EEM). Barring Brazil (EWZ), Russia (RSX), and India (EPI), inflation rates in emerging markets seem to be at comfortable levels. Typically, these markets grow fast, but the growth is coupled with higher inflation rates. Lower-than-usual inflation rates, along with attractive stock prices, make for a decent entry point. The caveat, though, is that these countries aren't growing at the rate they used to. But they're still growing faster than developed markets (EFA).
Please read the next part of this series to learn the effect of China's (FXI) shadow banking.