Hilton expanded segments with low capital investment
By Teresa Cederholm

Sep. 1 2020, Updated 9:50 a.m. ET
Hilton expands segments
Hilton expanded its operations in segments that require less capital investment. These include the Management and Franchise segment and the Timeshare segment. The Management and Franchise segment requires less capital. In the Timeshare segment, Hilton has deliberately focused on increasing sales of timeshare interests owned by third parties.
Article continues below advertisement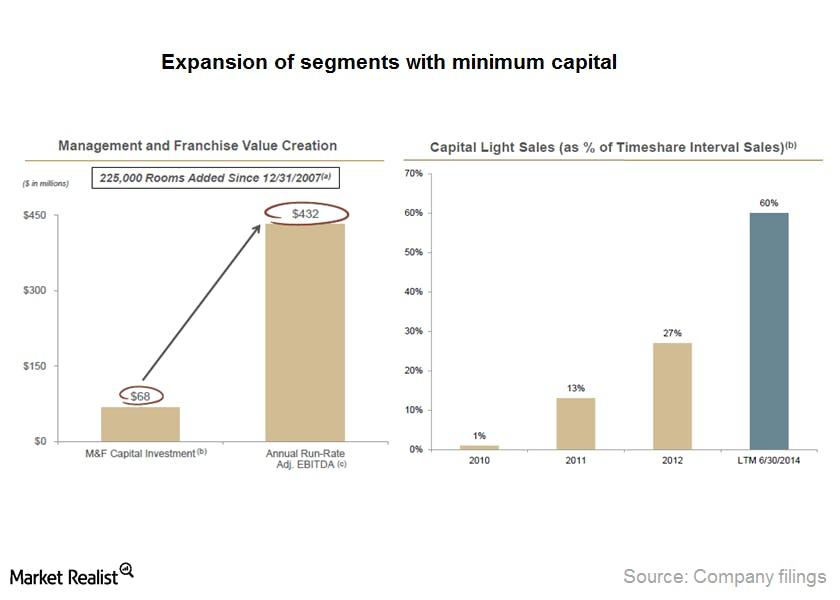 Management and Franchise segment growth
Capital requirement is minimal in this segment. The company only manages and supervises the property on behalf of the owners. The company charges a management fee or franchise fees for the use of its brand name or other services. Since the average length of the contract is 20 years, cash flows are also more stable. With a capital investment as low as $68 million since 2007, Hilton has added 225,000 rooms. It generated an annual run-rate adjusted earnings before interest, taxes, depreciation, and amortization (or EBITDA) of $432 million. Annual run-rate adjusted EBITDA is calculated as Adjusted EBITDA for the segment divided by the total number of rooms. This is multiplied by the number of rooms added between December 31, 2007 and June 30, 2014.
Timeshare segment growth
The company sells timeshare interest owned by Hilton and third parties. It has adopted the capital light model. The third party timeshare owners and developers provide capital for property development. The company only acts as a marketing agent and property manager. Capital light sales, as a percentage of timeshare interval sales, increased significantly from 1% in 2010 to 60% in the last 12 months (or LTM) ending June 30, 2014. By reducing its capital investment, the return on invested capital (or ROIC) will increase.
In this segment, Hilton competes with Marriott's Marriott Vacation Club, Starwood's (or HOT) Starwood Vacation Ownership, Hyatt's Hyatt Residence, and Wyndham's Wyndham Vacations Resort.
Investors can gain exposure to high growth stocks—like Hilton—through exchange-traded funds (or ETFs). The PowerShares Dynamic Leisure and Entertainment Portfolio and the First Trust U.S. IPO Index Fund (or FPX) have ~5% and ~2% holding in Hilton shares.