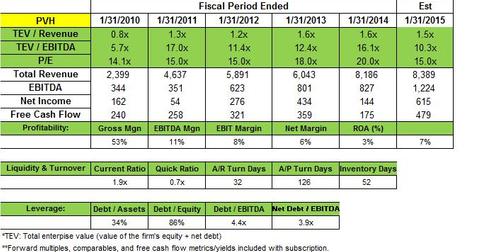 Why Highbridge Capital buys a new stake in PVH Corp.
By Patricia Garner

Updated
Highbridge Capital Management and PVH Corp.

Highbridge Capital traded notable positions in the second quarter. It initiated new stakes in Valeant Pharmaceuticals (VRX), International Business Machines (IBM), PVH Corp. (PVH), and Tyson Foods Inc. (TSN). During 2Q14, the fund also sold its shares in Celgene Corp. (CELG), FirstEnergy Corp. (or FE), Advance Auto Parts Inc. (or AAP), and Eli Lilly & Co. (or LLY).
Highbridge Capital initiated a brand new position in PVH Corp. (PVH). PVH Corp. accounts for 0.39% of the fund's second quarter portfolio.
Company profile
Article continues below advertisement
Phillips-Van Heusen Corporation (or PVH) one of the world's largest apparel companies. It owns and markets the iconic Calvin Klein and Tommy Hilfiger brands worldwide. It's the world's largest shirt and neckwear company. It markets a variety of goods under its own brands—Van Heusen, Calvin Klein, Tommy Hilfiger, IZOD, ARROW, and Warner's and Olga.
Its licensed brands include Speedo, Geoffrey Beene, Kenneth Cole New York, Kenneth Cole Reaction, MICHAEL Michael Kors, Sean John, Chaps, Donald J. Trump Signature Collection, DKNY, Ike Behar, and John Varvatos.
EPS beats estimates
Earnings per share (or EPS)—on a non-generally accepted accounting principles (or GAAP) basis—was $1.51. It was $1.39 in the same quarter last year. GAAP EPS was $1.52—compared to the loss of $0.07 in the same quarter last year.
Revenue was $1.98 billion. This was an increase of 4%—compared to the amount in the same quarter last year. That isn't including the $62 million of revenue related to the Bass business. It was sold during 4Q13. Revenue increased 1%—compared to the same period last year when the Bass revenue was included.
Revenue increased 9% in the PVH's Tommy Hilfiger business and 1% in the company's Calvin Klein business. Revenue in PVH's Heritage Brands business was flat compared to last year.
Article continues below advertisement
Managment noted that "We are pleased with our second quarter performance, which exceeded our earnings per share guidance. Despite the anticipated difficult macroeconomic environment, we successfully navigated through heightened promotional activity in North America and volatility in certain key international markets. We believe the global macroeconomic environment will remain under pressure, yet we are cautiously optimistic about the second half of the year. We believe we are well-positioned to achieve earnings per share growth on a non-GAAP basis in excess of 15% for the second half of the year, as we anniversary our strategic investments in our acquired businesses, introduce our new Fall Calvin Klein jeanswear product and presentations at retail, and experience improving trends in our Southern European business."
Business segments performance
Calvin Klein's business revenue increased 1% to $675 million—from $671 million last year. Revenue for the North American business increased 1%. There was an increase in comparable store sales of 2%. There was also square footage expansion in PVH's retail stores. The revenue for the Calvin Klein International business was flat compared to last year.
Tommy Hilfiger's business revenue increased 9% to $870 million—from $799 million in the same period last year. Tommy Hilfiger's North America revenue increased 8%. The increase was a result of strong wholesale growth. It was also the result of 2% growth in retail comparable store sales. There was a square footage expansion in the company's retail stores.
Article continues below advertisement
Revenue in the Tommy Hilfiger International business increased 9%. It was driven by a comparable store sales growth of 3% in Europe. It was also driven by square footage expansion in the company's retail stores and growth in Europe's wholesale business. The positive impact of Foreign currency translation also contributed to the revenue growth. It was a result of a stronger Euro in 2Q14—compared to the same period last year.
Revenue for the Heritage Brands business was $431 million. It was relatively flat compared to the same period last year.
Outlook for the second half of 2014
PVH plans to use its profits in the acquired businesses. This will accelerate the revenue growth in 2015. The company's global growth strategy continues to focus on leveraging the regional operating platforms. The regional operating platforms include wholesale, retail, e-commerce, and licensing operations. The company wants to penetrate the iconic lifestyle brands across new categories, existing markets, new markets, and multiple demographics.
On the earnings call, management noted that these opportunities will drive retail sales for Calvin Klein, Tommy Hilfiger, and Heritage Brands businesses. It will drive the retail sales from ~$18 billion in 2013 to ~$24 billion by 2017. This will generate healthy EPS growth in the next few years.
The company also added that "We expect that a significant portion of our growth will be generated from our international operations, which are becoming an increasingly large and important component of our sales and operating profit and long-term growth profile. Over the last few years, PVH has truly become a global lifestyle apparel company, with non-domestic revenues growing to over 45% of our revenues in 2013 from 11% in 2009. As we look ahead, while we have already accomplished significant growth overseas to date, we believe that there is substantial revenue potential to unlock, particularly in emerging markets such as China and Brazil, over the next few years."
In the next part of this series, we'll discuss why Highbridge Capital opened a new position in Tyson Foods.