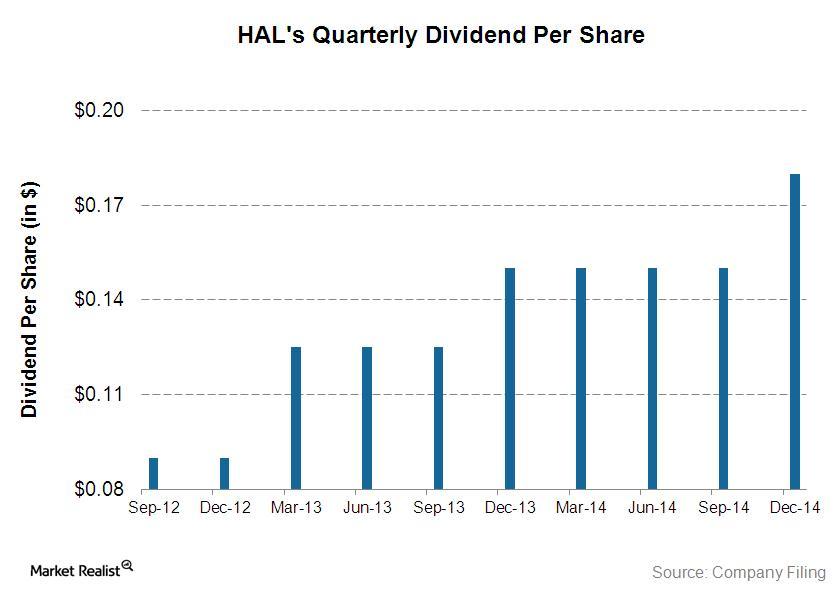 Why Halliburton shareholder returns are high
Dividend and share repurchase add shareholder value

Halliburton (HAL) maintains a steady dividend policy. In the past nine quarters, HAL has increased its dividends three times. For 4Q14, it has announced a $0.18 dividend per share payment, 20% higher than 3Q14. HAL has consistently increased shareholders' value by increasing dividend payouts and share buybacks.
In July 2014, Halliburton's (HAL) board increased common stock repurchase by approximately $4.8 billion, leaving $5.7 billion authorized to repurchase as of September 30. Some of the other companies that pay dividends in the energy oil and gas equipment and service include Schlumberger (SLB) and Baker Hughes, Inc. (BHI). All these are components of VanEck Vectors Oil Services (OIH) exchange-traded fund (or ETF) and Energy Select Sector SPDR (XLE)
Halliburton's finance structure
Halliburton (HAL) has $2.0 billion in cash and equivalents. It recorded $2.9 billion in operating cash flows in 9M14, or 15% higher than in 9M13.
Article continues below advertisement
Its current ratio (current asset to current liability) has decreased to 2.52 in 3Q14, from 2.73 recorded by the end of 2013. However, the ratio still looks comfortable. Current ratio indicates the company's ability to pay its short-term obligations (usually one year). A higher ratio signals higher liquidity and is better for the company.
As a result of steady financial backup, HAL has been able to increase shareholders' returns through dividend growth and share buybacks. However, its finance structure continues to remain debt-laden.
Debt sharply up
Halliburton (HAL) operates at a high debt level. Its current total debt is $7.8 billion. Debt levels increased the most in 2013, when they jumped ~62% from $4.8 million to $7.8 million. In 2013, HAL increased its borrowings by issuing senior debts amounting to $3.0 billion. Read the following section to learn where HAL stands against its peers by various operational and valuation metrics.