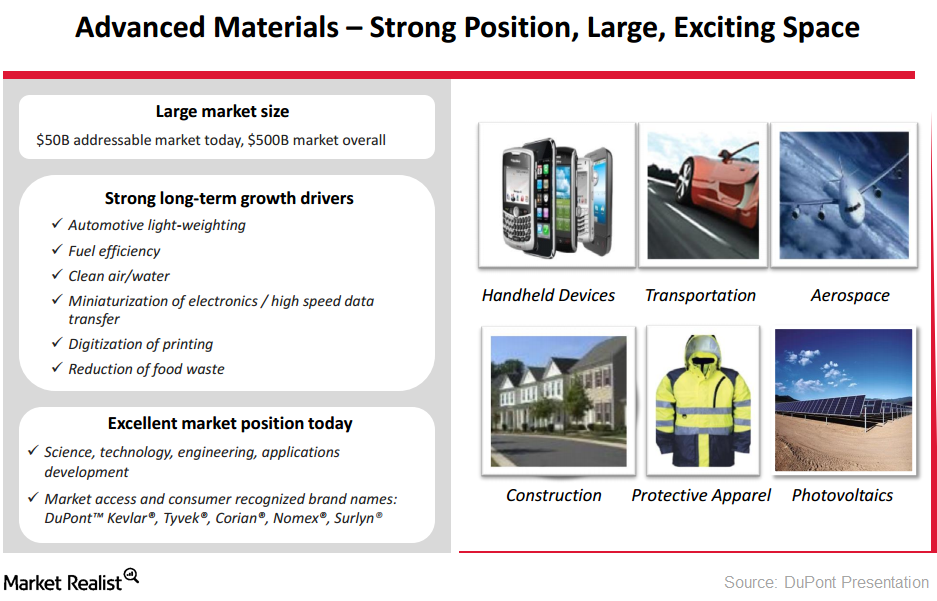 DuPont to grow advanced materials position
DuPont to provide more advanced materials solutions
DuPont said it expects to strengthen and grow its position as a provider of "differentiated high-value Advanced Materials through science-based solutions." Advanced materials includes brands under DuPont's electronics & communications, performance materials, and safety & protection segments. In 2013, around 35% of DuPont's total revenues, or about $13 billion, came from these three segments.
Safety & protection sees 1% growth in sales
Article continues below advertisement
In 2Q14, the three segments making up advanced materials contributed 33% to total revenues. Safety & protection segment sales grew 1% on higher volumes in industrial markets. DuPont said that improved demand for its Nomex thermal resistant and Kevlar high-strength materials was partially offset by lower sales from clean technology offerings, as fewer sulfuric acid recovery plants were built.
During the earnings call, management said that demand for Kevlar was driven by increased sales to the law enforcement, transportation, and wire and cable sectors. Nomex demand improved because of greater energy solutions and thermal industrial applications.
Management forecast better segment operating earnings in 3Q14—up around 20%—thanks to higher margins and sustained operational productivity.
Performance materials gains offset by ethylene unit shutdown
Meanwhile, sales in the performance materials and electronics & communications segments declined in 2Q14. A scheduled maintenance shutdown at the company's Orange, Texas, ethylene unit offset gains from strong performance polymer volumes in global automotive markets. DuPont said electronics & communications sales fell 6% due to reduced selling prices, primarily from the pass-through of metals prices, as well as product mix, and competitive pressures.
Advanced materials growth to be driven by collaborations, innovations, and acquisitions
At the Crédit Suisse Space Materials Conference, DuPont senior VP Matthew Trerotola noted that the company is "focused on a $50 billion portion of a $500 billion advanced materials market."
Article continues below advertisement
Trerotola said that "DuPont has a strong global market position in advanced materials, fueled by foundation strength in science, technology engineering and application development." He said some of the strongest brands under advanced materials include Kevlar, Nomex, Corian, Surlyn, and Tyvek. Trerotola added that the company will accelerate growth in advanced materials through collaborations, bio-based innovations, and potential acquisition and ventures to access a larger portion of this market.
Trian believes DuPont's excessive corporate overhead is responsible for lagging margins

Activist fund Trian Fund Management is demanding changes at DuPont. In its white paper, Trian pointed to benchmarks indicating that DuPont lags its peers in electronics & communications, performance materials, and safety & protection segments, in terms of organic growth or segment EBITDA margin (minus corporate expenses). Trian compared DuPont with 3M Co (MMM), Dow Chemical (DOW), Air Products and Chemicals, Inc. (APD), Celanese Corporation (CE), and BASF Plastics (BASFY).
Trian added that "excessive corporate overhead" is the main reason why DuPont's margins are lower than its peers in most segments. The fund provided case studies on how eliminating these costs would have added value to DuPont's now divested coatings business (renamed Axalta Coatings Systems).