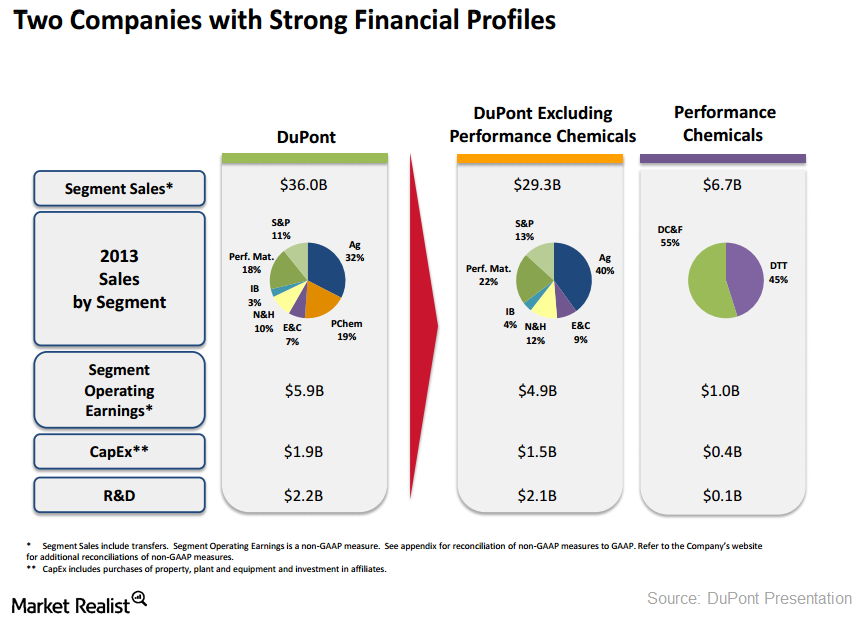 Why DuPont is spinning off its performance chemicals segment
Performance chemicals segment to be split
On October 24, 2013, DuPont announced that it intends to separate its performance chemicals segment through a U.S. tax-free spinoff to shareholders. The company expects to complete the separation around mid-2015.
The company said in July last year that it was exploring strategic alternatives for its performance chemicals unit as part of its transition to a "higher growth, higher-value" company. Upon completion of the separation, 100% of the new company will be owned by DuPont shareholders.
DuPont said each company will have a tailored capital structure that best supports its value creation plan, including capital allocation and credit profile. DuPont expects to enable both companies to pay dividends that in total equal DuPont's dividend at the time of separation.
The performance chemicals business' main products include its broad line of DuPont Ti-Pure titanium dioxide (TiO2) products. The segment also includes industrial and specialty fluorochemicals, and fluoropolymer brands such as Teflon.
Titanium dioxide prices experiencing volatility
Article continues below advertisement
Sales of the performance chemicals segment declined due to the volatility in titanium dioxide prices. Titanium dioxide is a white pigment used in cosmetics, coatings, paper, plastics, toothpaste, sunscreen, paint, and other products. Sales fell in 2013 because of price declines for titanium dioxide, caused by oversupply from Asia and slow demand.
A Fitch report in September noted that DuPont is the largest TiO2 producer worldwide, with around one-fifth of the market share. Its major competitors include Kronos Worldwide, Inc. (KRO), Tronox Ltd. (TROX), and Huntsman Corporation (HUN), which is in the process of acquiring Rockwood Holding Inc.'s (ROC) TiO2 business. The report said that although TiO2 demand recovered quickly after the housing crash, and Chinese demand and prices hit record highs in 2012, the demand fell in the second half of the year. Fitch added that despite TiO2 volumes being up year-over-year, prices have lagged.
Performance chemicals sales experiencing a decline
DuPont said in its 2Q14 quarterly filing that year-to-date performance chemicals sales of $3.3 billion decreased $0.2 billion, or 6%. It added that increased volumes, primarily for titanium dioxide and fluoro-products, were more than offset by lower prices, primarily for refrigerants as well as titanium dioxide, and the impact of portfolio changes.
The management noted on the earnings call that "second quarter refrigerant prices for mobile and stationary applications were lower than expected and Ti02 prices were flat sequentially, but down about 3% on a year-over-year basis." Titanium dioxide volumes were up slightly year-over-year, the sixth consecutive quarter of volume growth. The management added that "We believe our customer inventories are normal and producer levels remain essentially unchanged. For the third quarter, we expect performance chemicals' operating earnings will be up moderately on improved volumes and margins."
Earlier in this series, we noted that DuPont decided to spin off the unit to focus on its higher-growth businesses such as nutritional products and agriculture. The next part will highlight DuPont's agriculture and nutritional product segments.