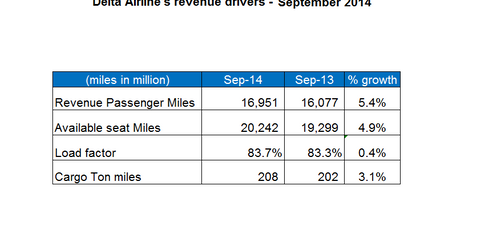 Delta Air Lines: September summary of operational performance
By Teresa Cederholm

Oct. 17 2014, Updated 5:38 p.m. ET
Traffic growth

In September, there was an overall increase in both passenger and cargo traffic. Traffic, or RPM (or revenue passenger miles), is calculated by multiplying the number of paying passengers by the total distance traveled. Delta Air Lines, Inc. (DAL) RPM increased by 5.4% year over year to 16,951 million. The increase is the combined average of domestic and international figures:
7% rise in domestic RPM
2% rise in international RPM – In the international market, Latin America is leading with a 13.2% increase in traffic, followed by 6.2% in the Atlantic region. In the Pacific region, volumes declined by 0.8%.
During the first nine months of the year, the 4.5% growth in domestic traffic was higher than the 3.5% growth in the international market. Measuring freight traffic, cargo ton miles increased by 3.1%.
Higher growth in international capacity
Article continues below advertisement
To support the growing demand in September, Delta increased capacity by 4.9%.  This represents the third-highest capacity growth figure recorded that month. Alaska Air Group Inc. (ALK) recorded the highest growth—9.9%— followed by JetBlue Airways Corporation (JBLU), which recorded 5.1% growth. American Airlines Group Inc's (AAL) capacity increased by 1.6% and Southwest Airlines Co's (LUV), by 0.7%. Only United Continental, Inc. (UAL) recorded negative growth of -0.4%.
Delta's capacity growth in September was higher in the international market.
International ASMs (or available seat miles) increased by 7.5%. The highest growth, 14.5%, was recorded in the Latin American market. This was followed by 8.2% in the Atlantic market, and in the Pacific region, ASMs increased by 2.8%—despite a decline in RPM in both August and September.
Domestic capacity increased at the lower rate of 3%.
Between January and September 2014, total ASMs increased by 2.7%. This was led by a 4% increase in international capacity versus 1.8% growth in the domestic market growth.
 Capacity utilization
Capacity utilization, or load factor, measures the percentage of total seats occupied. Delta's was 83.7% in September, almost the same as a year ago, but 4% lower than in August. The domestic market saw an increase of 2.1% and the international market, a decrease of 1.9%.
Other indicators
Passenger revenue per available seat mile, or unit revenue, increased by 2% year over year in September. This indicator shows the company's ability to generate higher revenues per seat, which is essential to improving margins.
Margins are also affected by fuel costs—the largest cost component for airline companies. Delta projects fuel price per gallon in 3Q14 to be between $2.90 and $2.95.
For a complete company overview of Delta Air Lines, read Market Realist's series, Investing in Delta Air Lines: A must-know company overview.