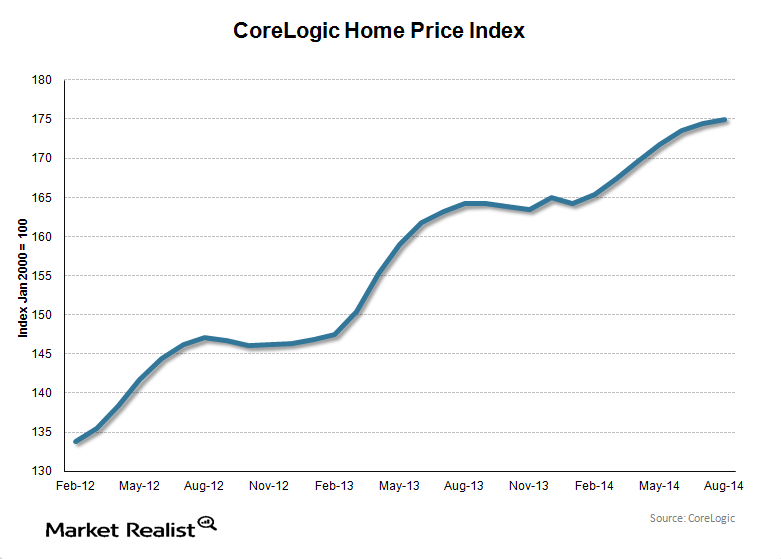 The CoreLogic Index shows home price appreciation is decelerating
By Brent Nyitray, CFA, MBA

Nov. 20 2020, Updated 1:25 p.m. ET
The CoreLogic Index 
The CoreLogic Index is a widely followed index of real estate values. Unlike the other major indices—like Case-Shiller or Radar Logic—CoreLogic separates distressed sales from non-distressed sales. Non-distressed sales indicate the core market in general. It's important to note that CoreLogic recently bought the Case-Shiller indices. So we'll see if it changes its methodology.
Mortgage real estate investment trusts (or REITs) like NewCastle (NCT) and PennyMac (PMT) as well as homebuilders—like Lennar (LEN), Standard Pacific (SPF), and KB Home (KBH)—pay close attention to real estate values.
The CoreLogic Home Price Index (or HPI)
Article continues below advertisement
Real estate values are big drivers of consumer comfort and spending. So, they have a large impact on the economy. The phenomenon of "underwater" homeowners—those who owe more than their mortgage is worth—has been a major drag on economic growth. Underwater homeowners are reluctant to spend. They can't relocate to where jobs are. Real estate and mortgage professionals watch the real estate indices closely.
Real estate prices are also a big driver of credit availability in the economy. Mortgages and loans secured by real estate are major risk areas for banks. When real estate prices are falling, banks become conservative and reserve funds for losses. In contrast, increasing real estate prices make the collateral worth more than the loan. This encourages them to lend more.
Month-over-month growth is decelerating but still positive
The 6.4% year-over-year gain is less than the annual gains we've been seeing over the past year. On a month-over-month basis, the increase was only 0.3%. The prices for ex-distressed sales increased 5.9%. Prices are still 12.1% below their peak in April 2006.
It's important to note that the Federal Housing Finance Agency (or FHFA) HPI has prices within 6.5% of the peak.
The difference between the indices is the sample. The rebound has been strongest in the western states—primarily California, Nevada, and Arizona. However, of the 100 distinct markets that CoreLogic measures, 98 showed year-over-year gains.
Visit the Market Realist homebuilders page to learn more about the industry.