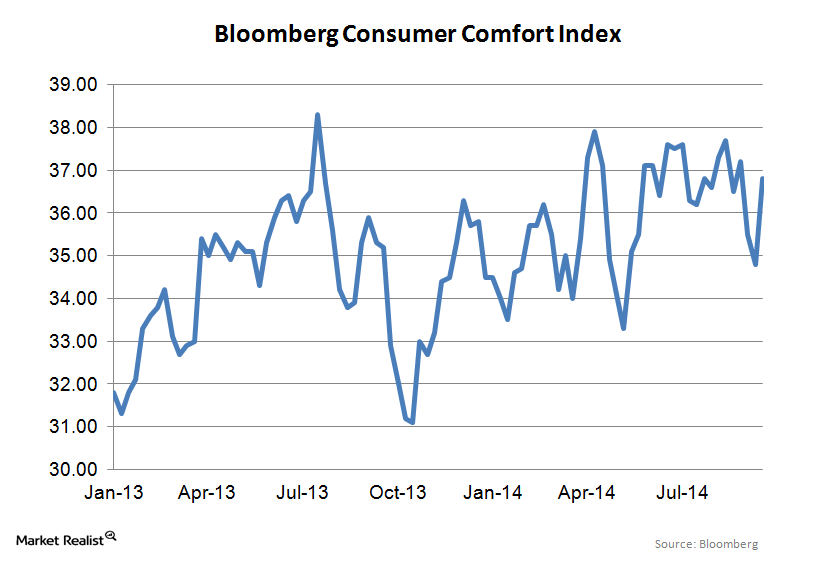 Consumer comfort ticks up markedly, supporting homebuilder stocks
By Brent Nyitray, CFA, MBA

Nov. 20 2020, Updated 4:17 p.m. ET
The Bloomberg Consumer Comfort Index
The Bloomberg Consumer Comfort Index is a weekly sentiment index that covers three critical variables:
Respondents' perception of the economy's state
Respondents' personal finance evaluation
Respondents' judgement of the timing of purchasing goods and services
The index is a random data sample from 1,000 people. Researchers collect data through telephone interviews using relatively straightforward questions—do you think the state of the economy, personal finances, and time to buy goods and services are excellent, good, not so good, or poor?
Since the index started in 1985, it has averaged 42. So neutrality isn't necessarily 50. The highest reading the index ever recorded was +66.3 in early 2000. The index bottomed at 23 in 2009.
Note that the index was recently rescaled from -50 to 50 to a scale of 0 to 100.
Views of the economy are still highly negative
The index finished the week at 36.8, an increase from the prior week. The report on balance is negative. This isn't surprising, given that the index itself is below 50.
Article continues below advertisement
Perceptions of the economy are highly negative, but they took a bit swing upward: 26% positive versus 74% negative. The perception last week was 22/78. The perception of whether it's a good time to buy is also highly negative—34% positive versus 66% negative. In regards to personal finances, the index ticked up to 51% positive versus 49% negative. So we saw improvement in all three areas, with the perception of the economy improving by the most.
When you ask consumers about the world around them, they tend to be more negative. But when you ask about their own personal situation, they're more neutral.
Implications for homebuilders
Consumer sentiment is a critical factor in risk taking. In fact, in a recent earnings conference call, KB Home (KBH) cited consumer confidence as a more important variable than interest rates.
Rising real estate prices had driven increases in orders. But order growth has been slipping for builders. Student loan debt remains a problem for the first-time homebuyer. But even the first-time homebuyer seems to be reappearing. Given that the cost of renting is higher than the cost of owning, a change in sentiment should cause a big spike in new orders.
Housing starts have been highly depressed since the real estate collapse. Even a marginal increase in demand should drive homebuilders forward. Changes in consumer sentiment will likely have a positive effect on homebuilder stocks, including Lennar (LEN), Pulte Homes (PHM), D. R. Horton (DHI), and Toll Brothers (TOL).
You can also invest in the sector via an ETF like the SPDR S&P Homebuilders ETF (XHB).