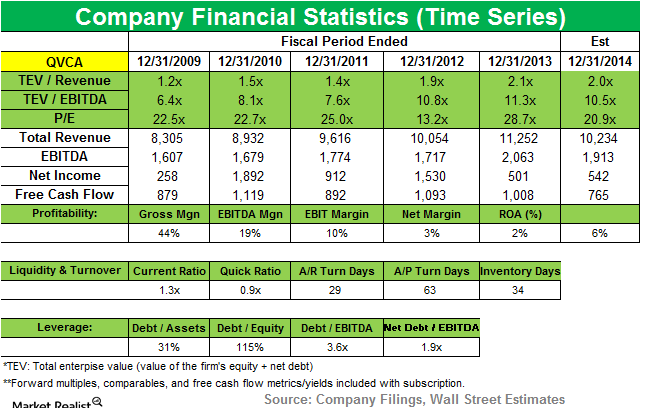 Why Citadel Advisors ups position in Liberty Interactive
By Samantha Nielson

Oct. 27 2014, Updated 1:00 p.m. ET
Citadel Advisors increases position in Liberty Interactive
Kenneth Griffin's Citadel Advisors' latest 13G filings disclosed stake increases in Sunesis Pharmaceuticals, Inc. (SNSS), Acxiom Corporation (ACXM), Lennar Corporation (LEN), Liberty Interactive (QVCA), and Starwood Waypoint Residential Trust (SWAY) in 3Q14.
Citadel added to its position in Liberty Interactive (QVCA). A 13G filing in September noted that the fund owns 4,129,345 shares of Liberty Interactive series A common stock. This is up from 1,058,271 shares in the 2Q14 portfolio. The filing said the fund owns a passive stake of 5.8% in Liberty Interactive.
Overview of Liberty Interactive
Liberty Interactive Corporation, formerly Liberty Media Corporation, owns interests in subsidiaries and other companies that focus primarily on the video and online commerce industries. The company's largest business and principal reportable segment is QVC, Inc.
QVC markets and sells a wide variety of consumer products in the United States and several foreign countries, primarily by means of its televised shopping programs and via the Internet through its domestic and international websites and mobile applications.
Article continues below advertisement
Liberty's digital commerce companies include Backcountry.com, Bodybuilding.com, CommerceHub, Evite, Provide Commerce, and The Right Start. Backcountry.com operates websites offering sports gear and clothing for outdoor and active individuals in a variety of categories. Bodybuilding.com manages websites related to sports nutrition, body building, and fitness. BuySeasons and Evite operate websites that offer costumes, accessories, décor, party supplies, and invitations.
Provide Commerce operates an e-commerce marketplace of websites for perishable goods, including flowers, fruits, and desserts, as well as upscale personalized gifts. CommerceHub operates a drop-ship solution that allows different software systems from both sides of the transaction to more easily access the data necessary to fulfill orders.
Liberty completes spinoff of stake in TripAdvisor
In August, billionaire John Malone's Liberty Interactive completed the spinoff of Liberty TripAdvisor Holdings, Inc. Following the spinoff, Liberty TripAdvisor Holdings will hold Liberty's 22% economic and 57% voting interest in TripAdvisor, its BuySeasons business, corporate level cash and cash equivalents of $50 million, and $400 million in indebtedness.
TripAdvisor is an online travel company that empowers users to plan and maximize their travel experience by aggregating reviews and opinions about destinations, accommodations, restaurants, and activities throughout the world.
Liberty Interactive board approves reattribution of assets

Article continues below advertisement
Liberty Interactive recently said its board approved its separation of its cable shopping business from its digital commerce business. It announced plans to reattribute its e-commerce assets (valued at $1.5 billion) and $1 billion in cash from the Liberty Interactive Tracking Stock to the Liberty Ventures Tracking Stock (or LVNTA). Under the deal, Liberty Interactive shareholders will receive about 67.7 million shares of Liberty Ventures stock, or about 0.14 Liberty Ventures share for each Liberty Interactive share they hold.
Liberty also applied to change the "LINTA" trading symbol to "QVCA" and the "LINTB" trading symbol to "QVCB." The new QVC Group consists of Liberty Interactive's subsidiary, QVC, and its interest in HSN.
Liberty Ventures Group (or LVNTA, LVNTB) consists of all of Liberty Interactive Corporation's businesses and assets, including its interest in Expedia, its subsidiaries Provide Commerce, Backcountry.com, Bodybuilding.com, Commerce Technologies, LMC Right Start, and Evite, and minority interests in Time Warner, Time Warner Cable, Lending Tree, and Interval Leisure Group.
QVC and the eCommerce companies drive revenue growth
Liberty Interactive Group's revenue increased 4% to $2.5 billion in the second quarter. The adjusted OIBDA (operating income before depreciation and amortization) declined 1% to $452 million and operating income decreased 5% to $255 million. Net income was $120 million. The company said both QVC and the eCommerce companies contributed to the increase in revenue for the quarter.
The next part of this series will discuss Citadel's latest position increase in Starwood Waypoint Residential Trust.