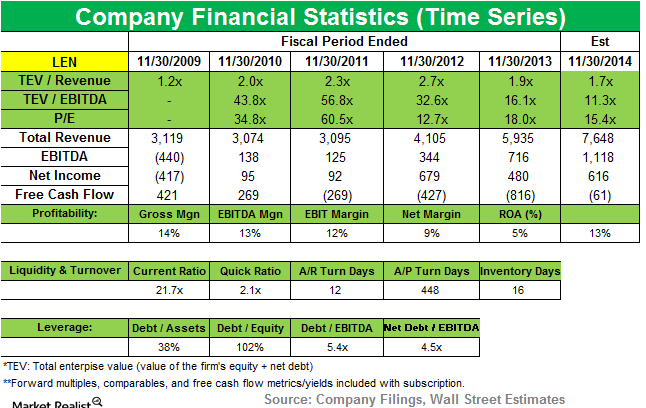 Why Citadel Advisors adds to its stake in Lennar
By Samantha Nielson

Nov. 20 2020, Updated 12:48 p.m. ET
Citadel Advisors increases position in Lennar
Kenneth Griffin's Citadel Advisors' latest 13G filings disclosed stake increases in Sunesis Pharmaceuticals, Inc. (SNSS), Acxiom Corporation (ACXM), Lennar Corporation (LEN), Liberty Interactive (QVCA), and Starwood Waypoint Residential Trust (SWAY) in 3Q14.
Citadel added to its position in Lennar Corporation (LEN). A 13G filing on September 15 noted that the fund owns 9,370,052 shares of Lennar stock, up from 3,620,124 shares in the 2Q14 portfolio. The filing said the fund owns a passive stake of 5.4% in Lennar.
Lennar overview
Lennar Corporation is one of the largest homebuilders in the U.S. with a primary geographical focus on the Southeast, South, Southwest, and Northwest. It also has a small exposure to the Northeast and the Midwest.
Article continues below advertisement
The company's homebuilding operations include the construction and sale of single-family attached and detached homes, as well as the purchase, development, and sale of residential land directly and through unconsolidated entities. Lennar primarily sells single-family attached and detached homes in communities targeted to first-time, move-up, and active adult homebuyers.
Lennar's segments
Lennar has five reportable homebuilding segments: Homebuilding East, Homebuilding Central, Homebuilding West, Homebuilding Southeast Florida, and Homebuilding Houston.
Lennar also has three other reportable segments: Lennar financial services, Rialto investments, and Lennar multifamily. The financial services segment provides mortgage financing, title insurance, and closing services for both buyers of the company's homes and others.
The company's Rialto investments segment provides commercial real estate investment, investment management, and finance services. Lennar's multifamily business focuses on developing multifamily rental properties in select U.S. markets, primarily through unconsolidated entities.
Lennar posts increases in 3Q14 earnings and revenue
Lennar reported $2.01 billion in revenues, an increase of 26% year-over-year. Third quarter 2014 net earnings were $177.8 million, or $0.78 per diluted share, compared to $120.7 million, or $0.54 per diluted share in the corresponding period last year. The management noted that "New orders in the quarter rose 23% over the prior year, with increases in each of our segments."
Homebuilding revenues increased 25%, to $1.8 billion from $1.4 billion in the third quarter of 2013. New home deliveries, excluding unconsolidated entities, grew to 5,450 homes in the third quarter of 2014 from 4,972 homes in the third quarter of 2013. The Rialto segment reported $40.8 million in revenues.
For more on Lennar's 3Q14 earnings, please read Lennar's 3Q14 earnings review: Rising revenues and gross margins.
Homebuilding is recovering slowly
Lennar noted in its 10Q that, "The homebuilding recovery has continued its progression at a slow and steady pace, moving upward in a fairly narrow channel. The recovery has been supported on the downside by the significant production deficit that has resulted from the extremely low volumes of dwellings, both single family and multifamily, that has been built over the past seven years. At the same time the recovery has been, and likely will continue to be, constrained by a limited supply of available homes on the market, limited supply of land available to add to the supply of homes and constrained demand from purchasers who would like to buy but are unable to access the mortgage market."
The next part of this series will discuss Citadel's latest position increase in Liberty Interactive.