China's thermal power output recorded a downfall
By Katie Dale

Nov. 20 2020, Updated 2:11 p.m. ET
China's thermal power output
Rising pollution is a major concern for the Chinese economy. It's also dealing with excess debt and capacity. As a result, the Chinese government placed greater emphasis on environmental sustainability. People are encouraged to wear masks outdoors and to stay indoors.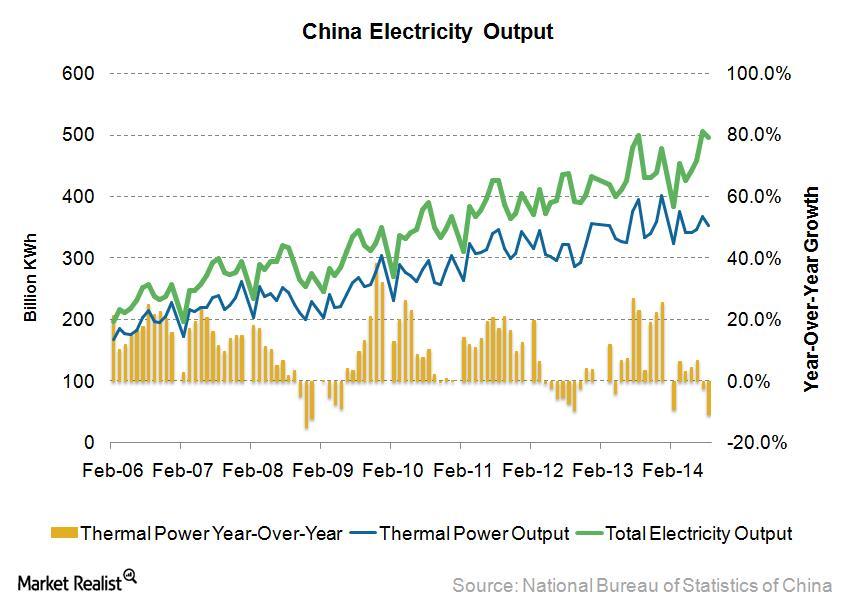 Power consumption decreases
China's power consumption in August was 502.5 billion kilowatt hours (or kWh). This was a decline of 1.5% from the levels last year. The decline was mainly led by a slower economy and milder temperatures. The data was provided by the National Energy Administration.
Article continues below advertisement
For the first time in four years, power generation recorded a decrease in August. There was a drop in industrial consumption because of a slowdown in domestic economic growth. This caused the power consumption to fall. Industrial output growth was down 2.1 percentage points month-over-month (or MoM) to 6.9%.
A Deutsche Bank report revealed that thermal coal, used by six major coastal electric utilities in China, showed that consumption declined by 23% during August and September—compared to the same period last year.
For the first eight months this year, power consumption increased 4% year-over-year (or YoY) to 3.64 trillion kWh.
Power output is decreasing
For August, the overall power output declined 2.2% YoY—compared to an increase of 3.3% in July. Due to the consistent rainfall since July, hydropower output surged 37.2% YoY. Thermal power output was squeezed by hydropower. It recorded an 11.3% YoY decrease.
2014 estimates
China's government increased its emphasis on pollution. Also, China's at a stage where growth transitions from an infrastructure-led economy to a consumption-driven economy. It's investing in renewable energies, nuclear power, and natural gas. This is expected to take on a wider role.
In July, the China Electric Council cut its forecast for power consumption growth in 2014. It cut it to 5.5%–6.5%. The power consumption was down from its February estimate of 7%. It  had an increase of 7.5% in 2013.
China's thermal power output growth is at risk. It impacts the seaborne coal trade and dry bulk shipping companies—like DryShips Inc. (DRYS), Diana Shipping Inc. (DSX), Safe Bulkers Inc. (SB), Knightsbridge Shipping Ltd. (VLCCF), and the Guggenheim Shipping ETF (SEA).