Why China is important for companies like Walter Energy and Vale
By Mike Sonnenberg

Nov. 20 2020, Updated 11:08 a.m. ET
Introduction
A couple of weeks ago, we discussed India's power sector. We looked at why India's power sector is important for U.S. coal producers like Peabody Energy (BTU) and Cloud Peak Energy (CLD). India is the second largest coal importer. China is the largest.
This week, we'll discuss China's power sector. We'll also look at China's energy policy. We'll analyze China's steel sector to help our readers understand why it's important for U.S. met coal producers like Walter Energy (WLT) and Alpha Natural Resources (or ANR). We regularly cover China and other emerging markets in our China ETFs section and Emerging Markets ETFs section.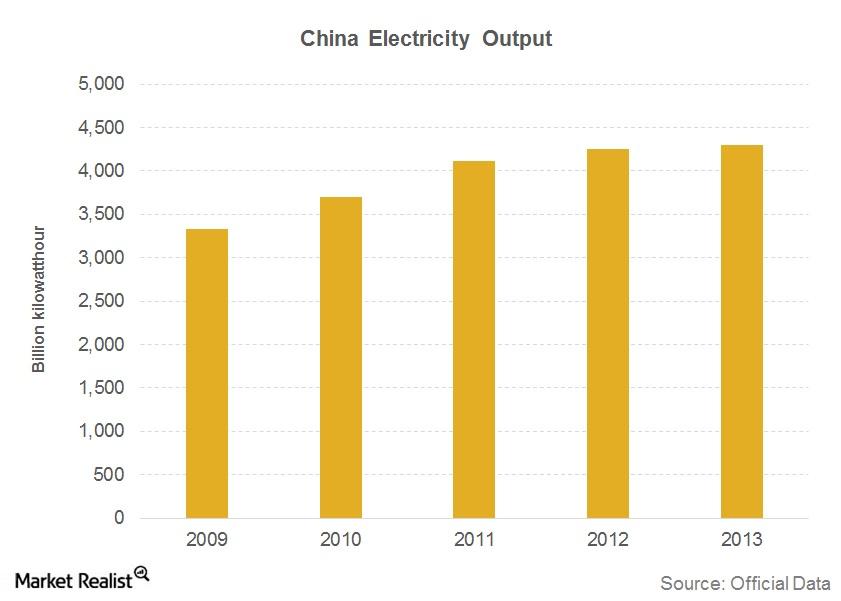 Biggest consumer of commodities
Article continues below advertisement
China (FXI), by far, consumes the most commodities—like coal, iron ore, and cement—in the world. With an installed capacity of over 1,260 gigawatts (or GW), China ranks first in terms of installed electricity generation capacity. It's followed by the U.S. with 1,040 GW. Most of China's installed capacity is fueled by coal. According to the U.S. Energy Information Administration (or EIA), China consumed over 3.5 billion tons of coal in 2012. This is almost half of the world's total. It's more than four times the consumption in the U.S.
With 779 million tons in 2013, China also accounted for almost half of the world's crude steel production. It was followed by Japan with 111 million tons. Iron ore and met coal are key components in the steelmaking process. As a result, the stock price of iron ore producers—like VALE SA (VALE)—and met coal producers—like Walter Energy (WLT)—are very sensitive to China's economic indicator releases.
Fears that China is slowing
China's industrial output increased by 6.9% in August. This is the slowest since the 2008 financial crisis. On September 22, China's Finance Minister, Lou Jiwei, issued a statement. He said that the government won't change its economic policies because of weakness in one economic indicator.
Coal, other commodity stocks, and exchange-traded funds (or ETFs)—like the SPDR S&P Metals and Mining ETF (XME)—dropped immediately after the statement was released. The fears grew about China slowing down. The statement also indicated that the government may not aggressively loosen monetary policy. This could slow down investments. If China slows down, there will be less demand for commodities.
With this background, we'll discuss China's power sector in the next part of the series. We'll analyze its importance for U.S. thermal coal producers.