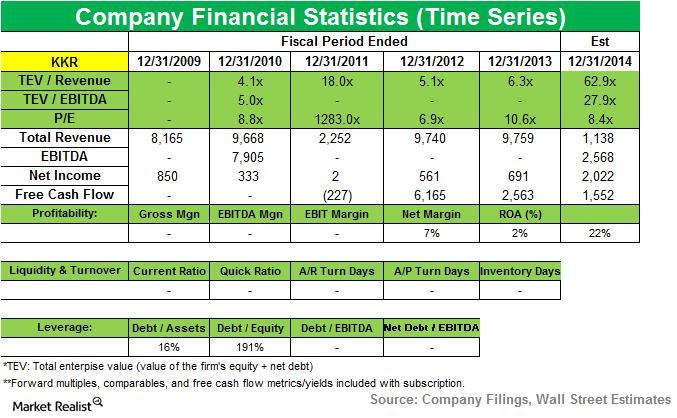 Chilton sells position in Kohlberg Kravis Roberts
By Patricia Garner

Nov. 20 2020, Updated 12:22 p.m. ET
Chilton and Kohlberg Kravis Roberts & Co. L.P
Chilton Investment Company, LLC (or Chilton) added new positions in Fortune Brands Home & Security Inc (FBHS), J.B. Hunt Transport Services, Inc. (JBHT), NOW Inc (DNOW), Gartner Inc (IT), and Kansas City Southern (KSU). It sold positions in Canadian Pacific Railway Limited (CP), Spansion Inc. (CODE), LKQ Corporation (LKQ), Avago Technologies Ltd (AVGO), and Kohlberg Kravis Roberts & Co. L.P (KKR).
Chilton sold a position in Kohlberg Kravis Roberts & Co. L.P. (KKR) that accounted for 0.88% of the fund's 1Q U.S. long portfolio.

Overview of KKR

Article continues below advertisement
Kohlberg Kravis Roberts & Co. (or KKR) is a leading global investment firm that manages investments across multiple asset classes including private equity, energy, infrastructure, real estate, capital markets, credit strategies, and hedge funds. KKR aims to generate attractive investment returns by following a patient and disciplined investment approach, employing world-class people, and driving growth and value creation at the asset level. KKR invests its own capital alongside its partners' capital and brings opportunities to others through its capital markets business.
During the second quarter, KKR acquired KKR Financial Holdings LLC (KFN). Through this acquisition, KKR increased the scale and liquidity of its balance sheet and added over $2 billion in net assets to support the continued growth of its business.
Business Segment Results
Private market – Asset under management (or AUM) saw a quarterly decrease of 1.8%, year-over-year. This decrease was primarily caused by distributions to the limited partners of private equity funds. Total segment revenue saw an increase because of a higher level of net-carried interest and total investment income. This reflectsa higher level of appreciation in its private equity portfolio.
Public market – AUM saw a quarterly decrease of 7.9%, year-over-year. The acquisition of KFN caused this decrease. The segment overall saw a quarterly increase of $76.6 million, year-over-year. Including KFN in 2014 total investment figures produced this increase.
Capital markets – Total segment revenue was up slightly by $1.5million compared to the previous quarter. Higher capital markets transaction activity drove this increase.
KKR's partnership with Goodpack
Goodpack owns and operates the world's largest fleet of steel intermediate bulk containers. This type of container is a multi-modal, reusable metal box system that provides packaging, transport, and storage for global core industries.
KKR acquired Goodpack on September 15, 2014. The deal will strengthen Goodpack's position as a leader in the logistics solutions space. Goodpack's team will benefit from KKR's global network, enabling it to enter into new markets and increase sales in existing markets.
United Internet acquires KKR's Versatel stake
On September 3, 2014, United Internet AG, the leading European internet services company, acquired 74.9% of KKR's shares in Versatel GmbH. Versatel is one of the leading providers of data, internet and voice services in Germany.
Germany is the largest telecommunications market in Europe. KKR originally invested in Versatel in 2011. In a joint venture with United Internet, Versatel was taken private and is now the leading fibre operator in Germany.
KKR acquires 24.9% interest in BlackGold
BlackGold Capital Management is a credit-oriented hedge fund specializing in energy and hard asset investments. Blackgold has deep industry knowledge of the energy sector. KKR's acquired BlackGold on July 3,2014, providing new investment opportunities for the firm.
Omega Advisors bought a stake in KKR in 2Q14. Learn more about this deal in Market Realist's Omega Advisors starts a new position in KKR.