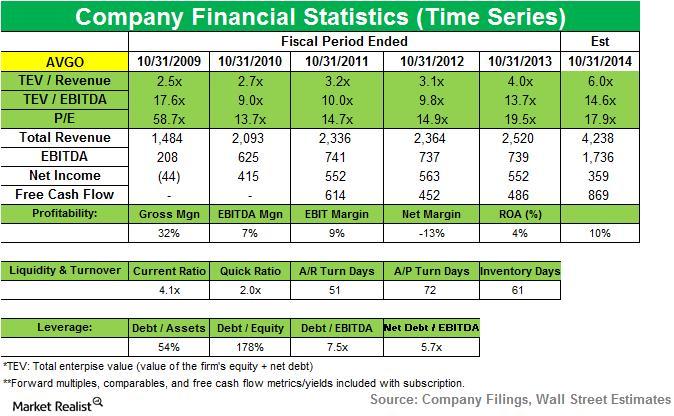 Chilton sells stake in Avago Technologies
By Patricia Garner

Oct. 13 2014, Updated 5:00 p.m. ET
Chilton and Avago Technologies Ltd
Chilton Investment Company, LLC (or Chilton) added new positions in Fortune Brands Home & Security Inc (FBHS), J.B. Hunt Transport Services Inc (JBHT), NOW Inc (DNOW), Gartner Inc (IT), and Kansas City Southern (KSU). It sold positions in Canadian Pacific Railway Limited (CP), Spansion Inc (CODE), LKQ Corporation (LKQ), Avago Technologies Ltd (AVGO), and Kohlberg Kravis Roberts & Co. L.P (KKR).
Chilton sold a position in Avago Technologies Ltd (or Avago) that accounted for 0.96% of the fund's 1Q14 U.S. long portfolio.

Overview of Avago Technologies

Avago is a designer, developer, and global supplier of a broad range of analog, digital, mixed signal and optoelectronics components and subsystems, with a focus in III-V compound semiconductor design and processing.
Article continues below advertisement
Backed by an extensive portfolio of intellectual property, Avago products serve four target markets: wireless communications, wired infrastructure, enterprise storage, and industrial and other. Applications for products in their target markets include cellular phones and base stations, data networking, storage and telecommunications equipment, factory automation, power generation and alternative energy systems, and displays.
In its latest 10Q filing, Avago said that Apple Inc. accounted for more than 10% of its net revenues for the three fiscal quarters ended August 3, 2014.
Acquisition of PLX technology
Avago acquired PLX technology, a leader in PCI Express silicon and software connectivity solutions, in an all-cash transaction valued at approximately $309 million. The core business of PLX is a good fit for Avago's portfolio and broadens its product line serving the enterprise storage and networking end markets.
LSI acquisition to create opportunities in enterprise storage market
In May, Avago acquired LSI Corp in an all-cash transaction valued at approximately $6.6 billion. The acquisition expanded Avago's product offerings and added system-level expertise to its wired infrastructure market. With increased scale and a diversified product portfolio across attractive end markets, the combined company is strongly positioned to benefit from the growing opportunities in data center Internet protocol and mobile data traffic.
Avago reports sustainable revenue growth following LSI acquisition
Previously, Avago had only three target markets, namely wireless communications, wired infrastructure, and industrial. With the acquisition of LSI, Avago added enterprise storage as a fourth market.
Article continues below advertisement
During the first three quarters of fiscal year 2014, net revenue increased significantly compared to the first three quarters of fiscal year 2013. This was largely thanks to LSI's revenue contribution. Cyoptics also contributed revenue from its business in the wired infrastructure target market. The wireless communications market also saw content and unit growth.
Revenue growth driven by demand from Chinese manufacturers
In its latest quarterly filing, Avago said that net revenue from its wireless communications market increased 26% for fiscal 3Q14, "due to continued strength in mobile smartphone sales resulting from sustained demand from two large smartphone OEM customers and strong demand from Chinese LTE (long-term evolution) smartphone OEMs." OEMs are original equipment manufacturers.
Avago added that "Improvements in our product content in a number of new smartphone platforms as well as continued high demand for our film bulk acoustic resonator, or FBAR, technology products helped drive revenue growth during the third fiscal quarter."
Growth drivers for Avago's products
In a September presentation, Avago listed its growth drivers, including LTE (long-term evolution) deployment, increasing RF or radio frequency bands per phone in the wireless end markets, cloud, social media and video streaming, big data and data analytics in the enterprise storage end markets, and 4G/LTE infrastructure expansion and Internet of Things in the wired end markets.
The next article in this series will look at why Chilton sold off its position in KKR.