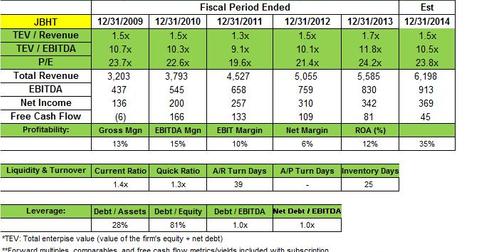 Why Chilton opens a new position in J.B. Hunt Transport Services
By Patricia Garner

Updated
Chilton and J.B. Hunt Transport Services Inc.
Chilton Investment added new positions in Fortune Brands Home & Security Inc. (FBHS), J.B. Hunt Transport Services Inc. (JBHT), Now Inc. (DNOW), Gartner Inc. (IT), and Kansas City Southern (KSU). The company sold positions in Canadian Pacific Railway Ltd. (CP), Spansion Inc. (CODE), LKQ Corporation (LKQ), Avago Technologies Ltd. (AVGO), and KKR & Co. L.P. (KKR).
Chilton Investment's new position in J.B. Hunt Transport Services accounts for 0.63% of the fund's 2Q U.S. long portfolio.
Overview of J.B. Hunt and its business segments
Article continues below advertisement
J.B. Hunt Transport Services, Inc., together with its wholly owned subsidiaries, provides transportation and delivery services to consumers throughout the continental United States, Canada, and Mexico. The company has four business segments: intermodal (or JBI), dedicated contract services (or DCS), integrated capacity solutions (or ICS), and full-load dry-van (or JBT).
The JBI segment offers intermodal freight solutions, which includes origin and destination pickup and delivery services. The DCS segment designs, develops, and executes supply-chain solutions, which support various transportation networks. It focuses on private fleet conversion, providing final mile delivery, replenishment, and specialized equipment and services.
The ICS segment offers non-asset and asset-light transportation logistics solutions, including flatbed, refrigerated, expedited, and less-than-truckload solutions, as well as various dry-van and intermodal solutions. This segment also provides single-source logistics management for customers who want to outsource their transportation functions. The JBT segment offers full-load and dry-van freight services by utilizing tractors operating over roads and highways.
J.B. Hunt also transports, or arranges for the transportation of, a range of freight, including general merchandise, specialty consumer items, appliances, forest and paper products, food and beverages, building materials, soaps and cosmetics, automotive parts, electronics, and chemicals.
J.B. Hunt's revenue is up on higher load growth and increase in customer rate
J.B. Hunt's total operating revenue for second quarter was up 12% compared to the previous year. Load growth of 8% in the JBI segment and 15% in the ICS segment led to an increase of 9% and 31% segment revenue, respectively. DCS segment revenue increased by 15% due to improved productivity of large private fleet conversions. The JBT segment revenue was flat.
The company said the slowdown in train velocity and difficulty in recruiting drivers hindered the company's profits, though it still managed to increase its revenues. Continued customer demand in the JBI and DCS segments and a rise in transactional business in the ICS segment led to an overall increase in revenues.
Repurchased shares
The company purchased approximately 990,000 shares of common stock in the second quarter for $75 million. As of June 30, the company had approximately $263 million remaining under share repurchase authorization.
The next article in the series will discuss Chilton Investment's new position in Now Inc.