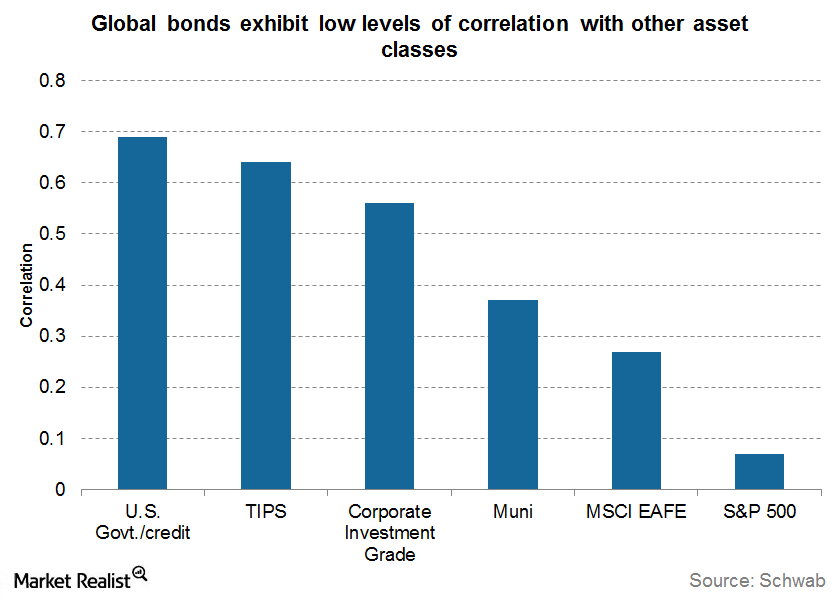 Why ETFs are the best vehicle for your beta exposure
By BlackRock

Nov. 26 2019, Updated 2:34 p.m. ET
Of course, a flexible approach can and often does include owning broad swaths of a market. An investor or advisor who has specific views on a market, or who wants to navigate tactically, needs opportunity to pursue such beta exposure. We believe the best vehicle for your beta exposure — the most efficient, tradable and affordable vehicle — is an exchange-traded fund. Indeed, ETFs are a great tool in an overall active-asset allocation plan, and are also a great way to keep your fixed-income assets invested as you consider changes between asset classes, managers or strategies.
Article continues below advertisement
Market Realist – The graph above shows that all bonds are not created equal. They have different beta exposures. The graph shows the difference in the index betas versus U.S. Treasuries (TLT)(IEF) for global aggregate funds, municipal bonds (MUB), the U.S. aggregate index (AGG), high yield bonds (HYG)(JNK), and emerging market bonds (EMB).
Market Realist – Investors should invest in greater depth globally to achieve better risk-adjusted returns from fixed income portfolios. Not only do global funds offer opportunities for income, but they also exhibit lower correlations with other asset classes like U.S. equities (SPY)(IVV) and other U.S. fixed income instruments. The above graph shows how these bond funds offer diversification benefits.
Read our series on Stay flexible: Why you need a dynamic bond portfolio to learn more about the need for flexibility in today's low yield environment.