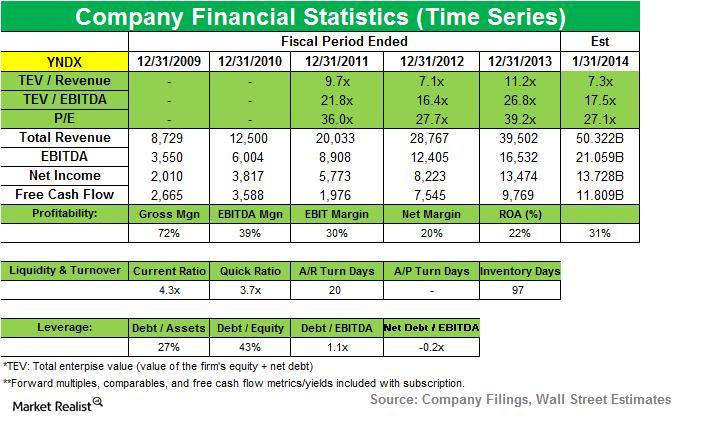 Why Blue Ridge Capital started new position in Yandex
By Patricia Garner

Oct. 7 2014, Updated 4:41 p.m. ET
Blue Ridge Capital and Yandex
Blue Ridge Capital initiated new positions in Yandex (YNDX), Visa Inc. (V), MasterCard Inc. (MA), and Kate Spade & Company (KATE). Notable positions the company exited include Coach Inc. (COH), Apple Inc. (AAPL), Liberty Global (LBTYA), and Barrick Gold Corp (ABX).
Yandex (YNDX) is a new position for Blue Ridge in the second quarter. The position accounts for 2.09% of the fund's 2Q U.S. long portfolio.
Overview of Yandex

Article continues below advertisement
Yandex is one of the largest European Internet companies and the leading search provider in Russia. The company generated 61.8% of all search traffic in Russia in 2013 and 61.9% in February 2014. According to comScore, its Yandex sites attracted 66 million unique visitors in Russia, and 102.1 million worldwide in January 2014.
According to data from LiveInternet, Yandex's share of the Russian search market, including mobile, averaged 61.6% in 2Q14, while Google's was 28.3% and Mail.ru's was 7.4%. The company is also known as the "Google of Russia."
The stock fell earlier this year on investors' concerns regarding the Ukraine crisis, but saw gains last month on reports of the Ukraine-Russia ceasefire.
Yandex revenue is up 32% due to text-based advertising
For 2Q14, Yandex reported revenue of $361.5 million, up 32% compared with 2Q13. 2Q14 net income was 2.4 billion rubles, or $71.2 million, down 18% compared with 2Q13. Yandex said this was due to foreign exchange loss recorded on the depreciation of the U.S. dollar during 2Q14.
The company's adjusted net income of 3.3 billion rubles ($98.7 million) rose 9% from the corresponding quarter last year. The 2Q14 results were above analyst expectations.
The company said its core business, which is text-based advertising, drove strong financial results with growth from advertisers and paid clicks. The acquisition of Auto.ru was also a robust move into auto classifieds, which is one of the fastest growing segments of online advertising.
Text-based advertising revenues accounted for 93% of total revenues in 2Q14 and continued to determine overall top-line performance. Display advertising revenue, accounting for 6% of total revenues, was down 6% compared with 2Q13. Yandex's search queries grew 21% from 2Q13 and advertisers increased 25% to more than 295,000 from 2Q13.
Yandex reiterates full-year sales growth outlook
Yandex said that on a like-for-like basis, excluding the revenue from Yandex.Money from 2013 results, it expects to reach full year ruble-based revenue growth of 25% to 30% in 2014.
The next article in the series will discuss Blue Ridge Capital's new position in Visa Inc. (V).