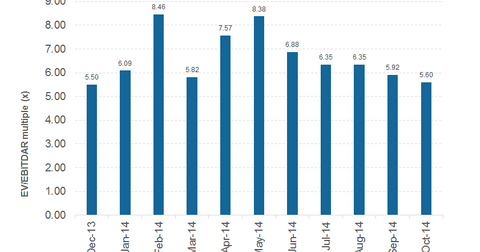 American Airlines' shares are trading at an attractive valuation
By Teresa Cederholm

Updated
Valuation
U.S. airline shares, which took a beating from the Ebola fear and the slowdown in the global economy, are currently trading at lower valuations. American Airlines (AAL) was the hardest hit by the panic, as its shares decreased by 27% since September. American's EV/EBITDAR[1. Enterprise value to earnings before interest, tax, depreciation, amortization, and rent] multiple, a valuation metric, has also fallen ~33% since May this year to 5.60x in October. This is the largest decline in valuation among the company and its peers.
Article continues below advertisement
During this period, Alaska Airlines' EV/EBITDAR multiple declined by ~20%, but JetBlue's (JBLU) and United's (UAL) declined by only 4.5% and 4.3%, respectively. Southwest's multiple increased by 0.8% during the period. The 21% decline in Delta's EV multiple between May and September was also lower than American's ~29%.
Short-term volatility
The World Bank and other international organizations will offer financial aid to improve healthcare systems of Ebola-affected countries. These efforts will help contain the spread of the disease. Further evidence of the efficacy of these initiatives comes from the World Health Organization (WHO), which declared Nigeria to be Ebola-free on Monday (October 20, 2014) since no new cases had been reported for 42 days.
The share prices of the major U.S. airlines recovered by an average ~5% in just two days after falling sharply on October 15, 2014, after the second nurse who had treated the U.S. Ebola-infected patient contracted the disease. It's evident that the fall in price was driven more by panic and negative sentiment from the fear of an Ebola outbreak in the U.S. Share price volatility from these events is generally short-lived.
See Why the Ebola scare led to a 16% drop in the Airline Index for more on how U.S. airline stocks were affected by this news.
Opportunity for long-term investors
Article continues below advertisement
American's 1H14 results was exceptional. The company reached the highest earnings in its history. See Overview: American Airlines Group's second quarter earnings to learn more about American's 2Q14 performance. We expect the trend to continue and 3Q14 performance—which the company will release on October 23, 2014—to be strong. PRASM (passenger revenue per available seat mile) is expected to increase by 0.5% to 1.5%. American Airlines is also poised to benefit from the decrease in crude oil price that will translate into lower fuel costs, resulting in higher margins.
So, given the company's announcement of higher returns to shareholders in the form of dividends and share buybacks—combined with strong operational performance since the merger—we see American's low valuation as an opportunity for long-term investors searching for stocks whose fundamentals and growth prospects over the medium to long terms are positive.
You can invest directly in the company's shares or through ETFs such as the SPDR S&P Transportation ETF (XTN).