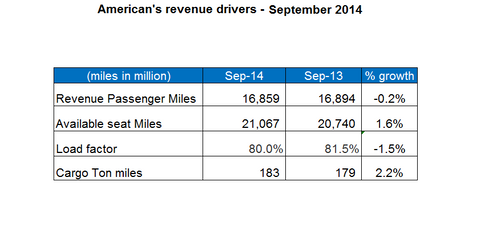 American Airlines: September summary of operational performance
By Teresa Cederholm

Updated
Strong traffic growth in Pacific market
In September, American Airlines Group Inc's (AAL) RPM (or revenue passenger mile) was 16,859 million, slightly lower than in September 2013. All its peers, including Delta Air Lines, Inc. (DAL), Southwest Airlines Co (LUV), Alaska Air Group Inc. (ALK), and JetBlue Airways Corporation (JBLU), recorded growth in RPM. Only American and United Continental, Inc. (UAL) had negative traffic growth for the month.
The 1.4% increase in American's domestic RPM was offset by a -4.3% decrease in international traffic. In the international market, only the Pacific region had positive growth of 6.7%. This was driven down by a decrease of 7.2% in the Atlantic region and 3.4% in the Latin American region.

The year-to-date growth, however, was positive in all markets. Total traffic growth during the period was 1.5%. The company recorded a 1.5% growth in the domestic market, 1% growth in the international market, and 2.8% growth in the regional segment.
Growth in international capacity
Article continues below advertisement
American reported a 1.6% growth in total capacity in September. This was driven by 2.4% growth in capacity in the international market, particularly in the Pacific with 13.5%, and the Atlantic with  2.1%. Growth was slightly offset by a 1% decline in capacity in Latin America. Capacity in the domestic market increased by 1%.
The year-to-date growth in capacity was up by 2.8% in the mainline segment but down -0.8% in the regional segment. Total capacity increased by 2.4% led by 5.6% growth in international markets and 1.1% growth in the domestic market. 
Decline in overall capacity utilization
Capacity utilization on American decreased to 80% in September 2014 from 81.7% a year ago. Utilization was lower by 5.3% in international markets during the month, led by an 8% decrease in the Atlantic region. Utilization also fell 2% in Latin America and 4.6% in the Pacific region. The year-to-date capacity utilization also decreased by 0.7%. The measure was down in all markets except the domestic market, which increased by only 0.4% to 85.8%.
Other indicators
Cargo ton miles increased by 2.2% in September. American expects its 3Q14 unit revenue, or passenger revenue, per available seat mile to grow between 0.5% and 1.5% year over year. The company also expects its pre-tax margin, excluding special items, to be between 10% and 12%. 
For a complete company overview of American Airlines, read Market Realist's series, Must-know: An overview of the American Airline Group.