AMD launches Hierofalcon and Bald Eagle for embedded solutions
By Anne Shields

Nov. 20 2020, Updated 4:45 p.m. ET
Hierofalcon and Bald Eagle 
In 2014, AMD plans to launch two new high-performance AMD embedded R-series processor families. The Hierofalcon is a central processing unit (or CPU) system-on-chip (or SoC) family that uses the ARM Cortex -A57 architecture. The Bald Eagle accelerated processing unit (or APU) and central processing unit (or CPU) uses a x86 microprocessor architecture.
If AMD's embedded solutions do well, it would benefit exchange-traded funds (or ETFs) like the SPDR S&P Semiconductor ETF and the iShares PHLX Semiconductor ETF , and the First Trust Technology AlphaDEX Fund . These ETFs have significant exposure to AMD.
Hierofalcon is the first 64-bit ARM-based platform from AMD. It targets embedded data center applications, communications infrastructure, and industrial solutions. It's designed to offer high-speed network connectivity, enhanced security, and encryption for systems security.
The Bald Eagle line is the next generation, high-performance, x86-based, embedded processor available as an APU and a CPU. It will offer power management features like configurable thermal design power (or TDP). It will also provide engineers with more design flexibility.
Article continues below advertisement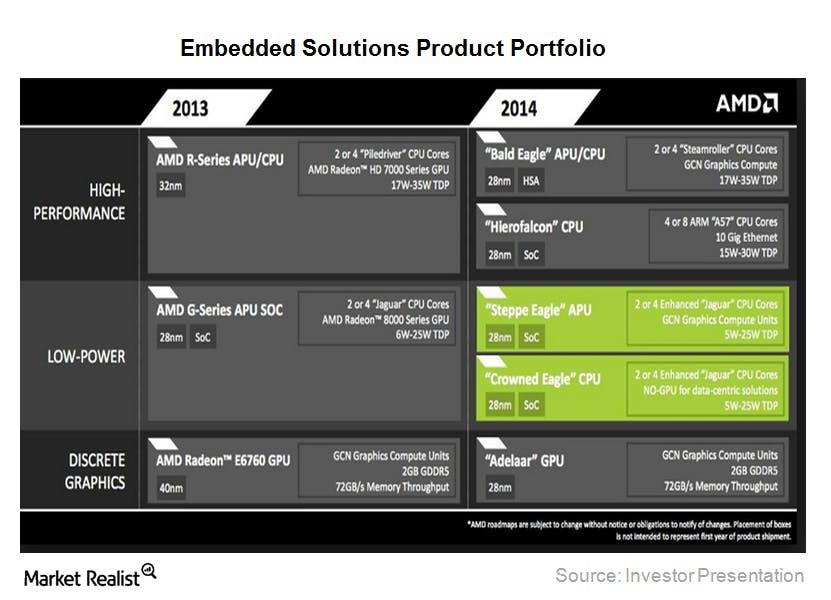 Steppe Eagle designed for low-power embedded applications
The "Steppe Eagle" APU SoC is designed to offer increased performance-per-watt at a lower TDP than the current AMD Embedded G-Series APU SoC. It also extends the high-end performance above two gigahertz (or GHz). TDP or thermal design power is the maximum amount of heat generated by CPU.
Adelaar—first embedded discrete GPU based on GCN architecture
Article continues below advertisement
"Adelaar" is the first next-generation discrete AMD embedded Radeon graphics processing unit (or GPU). It's based on Graphics Core Next (or GCN) architecture. It's specifically designed for embedded applications. They're expected to deliver rich 3D graphics and multi-display support. They offer support for DirectX 11.1, OpenGL 4.2, Windows, and Linux.
All of the products explained above are expected by fiscal year 2014.
New launches are expected to cater to varied industries
AMD added embedded products in its offerings portfolio. It's expected to cater to varied industries. The industries include industrial control and automation, digital gaming, digital signage, medical imaging, communication infrastructure, smart TVs, printing and imaging, and digital surveillance.
Internet of things provides growth opportunities
Chip manufacturers like AMD and Intel (INTC) are looking to the "Internet of Things" (or IOT) for future growth opportunities. It involves connecting intelligent systems with the internet and each other through a array of CPUs, GPUs, APUs, and SoCs.
Visit the Market Realist Tech, Media, & Telecom page to learn more.