Aeronautics: Lockheed Martin's highest revenue segment
By Ally Schmidt

Nov. 26 2019, Updated 8:47 p.m. ET
Aeronautics: Major programs
The Aeronautics segment currently contributes about 31% of Lockheed Martin total net sales. The major programs of the segment include:
F-35 Lightning II Joint Strike Fighter: A fifth-generation stealth fighter
C-130 Hercules: An international tactical airlifter
F-16 Fighting Falcon: A low-cost international multi-role fighter
F-22 Raptor: A fifth generation stealth fighter
C-5M Super Galaxy: A strategic airlifter
The F-35 program alone contributes about 50% of the segment's revenues, which also amounts to 16% of the total company's revenues.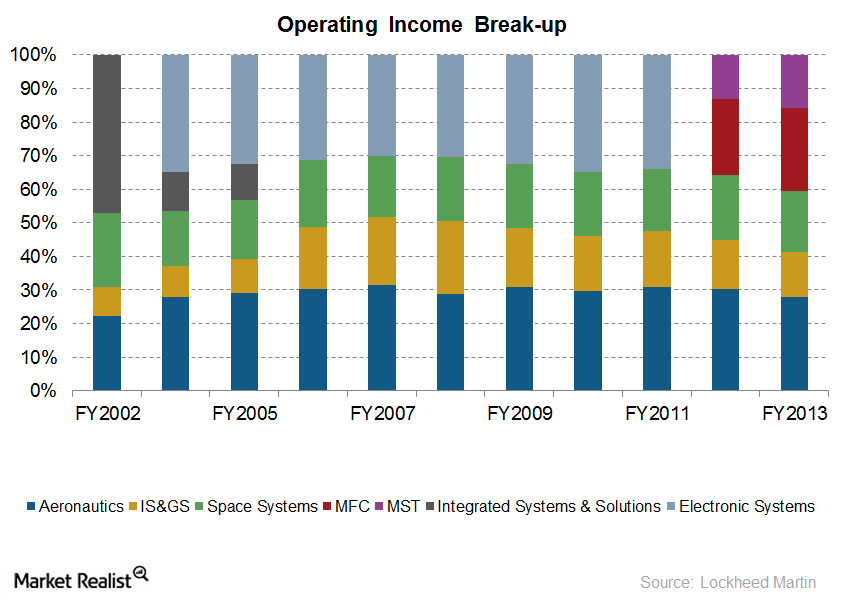 As you can see from the above graph, Aeronautics has also historically generated the highest share of income for the company. It continues to do so today.
What is LMT's strongest segment?
Article continues below advertisement
Lockheed Martin started deliveries on its major F-35 program just three years ago. Lockheed Martin works with almost 1,400 suppliers, including companies like Northrop Grumman, BAE Systems, and Pratt and Whitney, to manufacture the F-35. Though the budget constraints of the Department of Defence (or DOD) will affect the program, it will still drive future revenue growth for the company—albeit at a slower pace. The U.S. alone has a requirement of ~2,500 F-35 aircraft. With each aircraft selling for more the $100 million, the F-35 program alone provides a huge opportunity for Lockheed Martin.
The company has an order backlog of 93 aircraft from low-rate initial production (or LRIP) 6 and 7 contracts. LRIP contracts are contracts awarded in the initial testing phase of a weapons contract under which small quantities are produced, tested, and redeveloped before mass production starts. The company expects further orders from LRIP 8. As the program enters mass production, the overhead costs will fall, improving the margins on this program in the long term.
The segment also produces F-16 aircraft and has a backlog that runs through the middle of 2017. The order backlog for its C130J Super Hercules runs through the middle of 2015. The segment also has a contract from the U.S. Air Force to convert 49 C-5 galaxy aircraft to the super galaxy C-5M configuration, of which 13 were delivered in 2013. It also provides modernization services for the F-22 aircraft of the U.S. army.
Some of the major contractors for the F-35 program, aside from Lockheed Martin, include Northrop Grumman Corp. (NOC), BAE Systems (BAESY), and United Technologies Corporation (UTX). These companies form part of the Industrial Select Sector SPDR (XLI).
However, the segment revenues may be adversely affected by sequestration. To learn the impact, read our next article in this series.