3-month Treasury bill auction sees higher overseas demand
By Phalguni Soni

Nov. 21 2019, Updated 5:35 p.m. ET
3-month or 13-week Treasury bills auction
The U.S. Department of the Treasury held the weekly auction for three-month Treasury (SHV) (BIL) bills (or T-bills) on October 20. There were $24 billion worth of Treasury bills (MINT) auctioned, the same as the previous five auctions.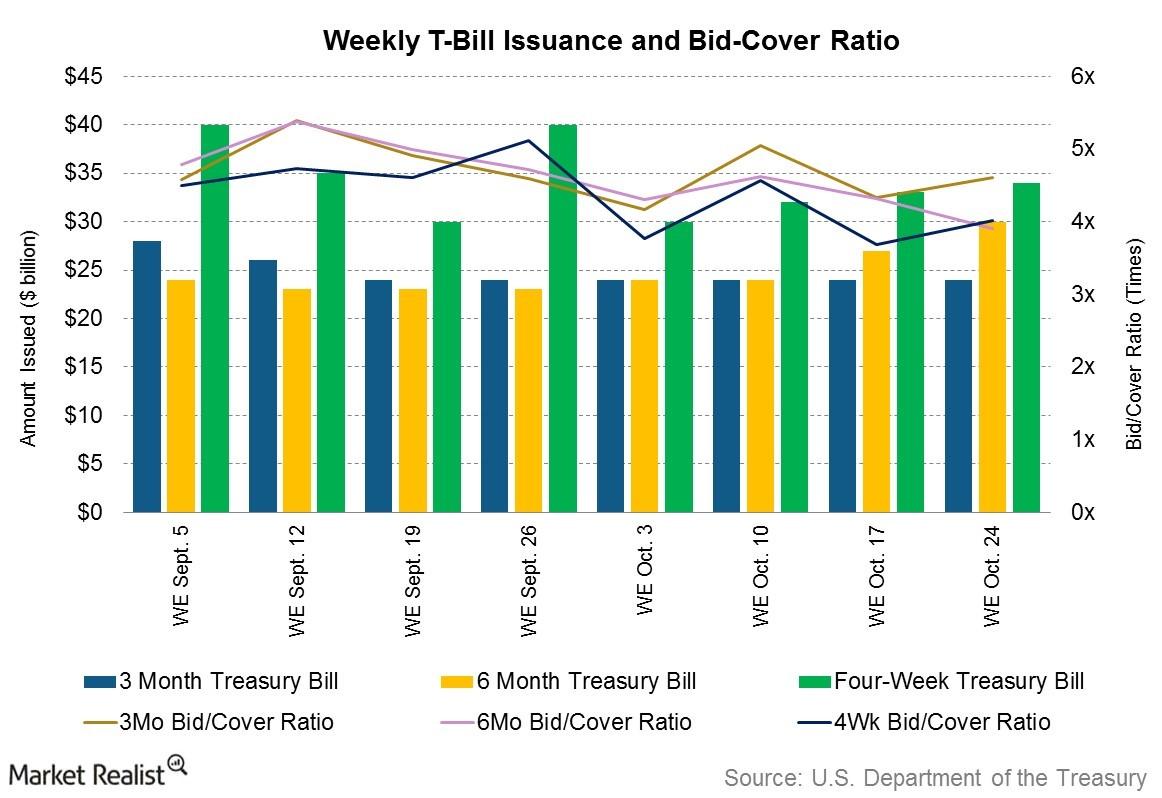 Bid-to-cover ratio
Despite the same supply, the bid-to-cover ratio came in at 4.6x, 6.2% higher than the previous week. This was right in line with the ~4.6x average recorded for all three-month Treasury bill auctions held in 2014. The ratio is an important demand indicator. It's the total value of bids received divided by the value of securities on offer. A higher ratio implies higher demand, and vice versa.
Competitive bidding
Article continues below advertisement
Market demand at the auction rose to 26.9% of the competitive bids, compared to 24.8% at the previous week's auction. Market demand consists of direct and indirect bids. Direct bids include bids by domestic money managers, while indirect bids include bids from foreign central banks and sovereigns, agencies, and supranationals (or SAS).
Market demand was higher last week due to higher demand from indirect bidders. Indirect bids rose to 22.9% of competitive bids, from 19.5% the previous week. Direct bids were lower, though, falling to 3.9% from 5.4% in the auction held on October 14.
Yields analysis
As mentioned earlier, unlike longer-dated Treasuries (IEF) (UST), T-bills don't pay a coupon. They're issued at a discount to be redeemed at face value at maturity. The high discount rate at the October 20 auction came in at 0.02%, compared to 0.01% at the previous week's auction.
1-month Treasury bills auction
The next section will discuss the key takeaways from last week's one-month Treasury bills auction.