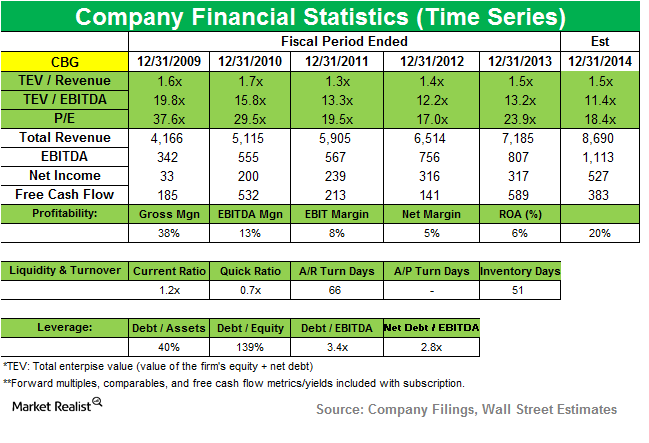 Why ValueAct Capital slightly increases position in CBRE Group
By Samantha Nielson

Sep. 12 2014, Updated 5:00 p.m. ET
ValueAct Capital and CBRE Group
Jeffrey Ubben's ValueAct Capital added new positions in Armstrong World Industries (or AWI) and 21st Century Fox (FOX). It exited positions in Symantec Corp. (SYMC) and Micros Systems Inc. (MCRS). Top position increases were Microsoft Corp. (MSFT) and CBRE Group (CBG).
ValueAct slightly upped its stake in CBRE Group (CBG) that now accounts for 7.62% of the fund's 2Q14 portfolio.
Article continues below advertisement
CBRE is a large commercial real estate services and investment firm. It has leading full-service operations in major metropolitan areas throughout the world. It offers real estate and investment services like facilities management, property management, mortgage loan servicing, and investment management. It offers its services to owners, lenders, and investors in office, multifamily, and other types of commercial real estate.
CBRE said in its 10Q filing that it was ranked as a top three global outsourcing services provider in 2014. It was the highest ranked commercial real estate services company in the survey by the International Association of Outsourcing Professionals (or IAOP).
The company expanded its service competencies through acquisitions—especially strategic in-fill acquisitions. This helped improve CBRE's geographic coverage. It strengthened its service offerings. The company said that during the six months ending June 30, 2014, it completed three in-fill acquisitions. This included its former affiliate company in Thailand, a commercial real estate services firm based in South Carolina, and a technical real estate consulting firm based in Germany.
Article continues below advertisement
In July 2014, CBRE finalized five additional acquisitions. Three of the acquisitions were in the United States. The acquisitions included a commercial real estate service provider in Chicago, a hospitality or lodging industry consultant, and its former affiliate in Louisville. Project management companies were also acquired in Germany and Australia.
CBRE reports its operations through the following segments:
Americas – under this segment, CBRE's business lines are organized into Advisory Services and Outsourcing Service
Europe, Middle East, and Africa (or EMEA) – the largest operations are located in France, Germany, Italy, the Netherlands, Spain, and the United Kingdom
Asia-Pacific
Global Investment Management
Development Services
CBRE reports revenue increase
CBRE's revenue for 2Q14 totaled $2.1 billion—an increase of 22% from $1.7 billion in 2Q13. Net income increased 17% to $118.7 million from $101.8 million in the second quarter of 2013. Adjusted earnings per diluted share improved 16% to $0.36 from $0.31 in the same period last year. Earnings before interest, taxes, depreciation, and amortization (or EBITDA) increased 8% to $262.8 million. However, it was impacted by lower mortgage origination activity with Government Sponsored Enterprises (or GSEs) and the timing of development sales.
Article continues below advertisement
In the Americas, CBRE's largest business segment revenue increased 11%. It was driven by growth in the leasing and occupier outsourcing businesses. CBRE's 10Q filing noted that leasing markets in the U.S. have been slower to recover. However, they have shown signs of improved sentiment and higher activity in 2014. CBRE said that it saw its strongest revenue growth in leasing in three years. The growth was driven by market share gains.
The company said its EMEA revenue increased 89%. It was driven by increases in property sales and occupier outsourcing. There were also strong contributions from the United Kingdom-based Norland Managed Services Ltd. CBRE acquired Norland in late December 2013.
In its 10Q, it added that leasing markets in most of Europe have remained soft in early 2014. Improved underlying economic conditions haven't translated into increased demand for space or higher rents, yet.
Asia-Pacific revenue was $241.2 million—an increase of 3%, or 9% in local currency, from $233.1 million for 2Q13. CBRE said its performance improved in several countries—specifically Australia and India. However, the performance was tempered by negative foreign currency effects.
The Global Investment Management segment provides investment management operations in the U.S., Europe, and Asia. Its revenues were up 10%. Development Services provides real estate development and investment activities primarily in the U.S. Its revenue increased 27% to $12.6 million. However, EBITDA fell. It was driven by lower income from property sales during the quarter.