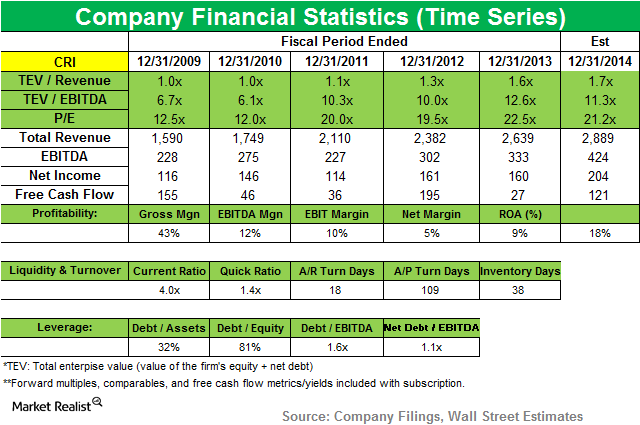 Why Tiger Global Management exits position in Carter's
By Samantha Nielson

Nov. 20 2020, Updated 3:23 p.m. ET
Tiger Global Management and Carter's
Tiger Global Management's top new buys were Netflix (NFLX) and Qihoo (QIHU). Top positions sold were apparel retailers Carter's Inc. (CRI) and The Gap (or GPS). It also sold positions in Coca-Cola Enterprises (CCE) and Motorola Solutions (MSI).
Tiger Global Management disposed of a large position in Carter's Inc. (CRI) that accounted for 6.84% of the fund's 1Q14 portfolio.
Article continues below advertisement
Carter's is based in Atlanta, Georgia. Carter's is the largest branded marketer of apparel and related products exclusively for babies and young children. The company owns the Carter's and OshKosh B'gosh brands. Carter's was established in 1865. The Carter's brand is known for producing high-quality apparel for children from newborn to size seven.
OshKosh was established in 1895. OshKosh is known for its line of apparel for children from newborn to size 12. It focuses on play clothes for toddlers and young children.
These brands sell in leading department stores, national chains, and specialty retailers—domestically and internationally. The company operated 509 Carter's retail stores and 187 OshKosh retail stores in the United States as of June 28, 2014. It also operated 110 retail stores in Canada as of June 28, 2014.
Second quarter sales increase across all segments
Carter's latest second quarter results beat estimates. Its net sales increased 10.9% to $574.1 million. Adjusted earnings per diluted share in 2Q14 increased 32.9% to $0.61—compared to $0.46 per diluted share in 2Q13. Net income increased 31.6% to $25.9 million—or $0.48 per diluted share.
Article continues below advertisement
Net domestic sales of the the Carter's brands increased 9.5% to $433.7 million. OshKosh B'gosh brand sales increased 16.9% to $79.2 million. Net international sales increased 13.1% to $61.2 million. The increase in sales across the retail segment for both brands was driven by new retail store openings, an e-Commerce sales increase, and a comparable retail stores sales increase.
Focus on growing online sales
Apparel retailers like Carter's also face headwinds like weak consumer demand and intense competition—especially from online retailers. Carter's noted on its earnings call that it saw robust demand in its e-Commerce segment. Management said, "the online channel is the #1 way consumers connect with our brands, and we are planning higher investments in digital marketing this year. We're leveraging our expanded eCommerce capabilities to reach more consumers and engage them more effectively."
During the first two quarters of fiscal 2014, Carter's paid cash dividends totaling $20.4 million.
Slowdown in retail sales
Sluggish consumer spending and severe winter weather contributed to the retail sector's slow beginning this year. Retail exchange-traded funds (or ETFs) like the SPDR S&P Retail ETF (or XRT) and the SPDR Consumer Discretionary ETF (or XLY) have underperformed the S&P 500 Index (or SPY). In August, the Commerce Department said that retail sales for July were flat. Retail spending has slowed down since March. There was a sales growth of 0.6% in April, 0.4% in May, and 0.2% in June. Reports noted that consumers have been cautious in terms of spending. Consumers spent more at apparel and grocery stores. They spent less at auto dealerships and department stores.
In July, Market Realist reported that Larry Robbins' Glenview Capital raised its stake in Carter's to 6.84%. For a detailed view of Carter's business segments, strategy, and peer comparison, please read Key opportunity: Glenview Capital raises its stake in Carter's.