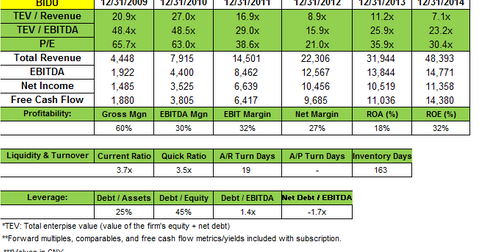 Steven Cohen's Point72 Asset Management cuts its stake in Baidu
By Samantha Nielson

Updated
Point72 decreases its position in Baidu
Steven Cohen's Point72 Asset Management added to its positions in the energy sector with Baker Hughes Inc. (BHI), Whiting Petroleum (WLL), and Weatherford International (WFT). One of its top new positions was in Valeant Pharmaceuticals (VRX). Point72 trimmed its stakes in Yahoo, Baidu, and Hess Corp. in 2Q14.
Point72 Asset Management, previously SAC Capital, slightly trimmed its position in Baidu (BIDU) in 2Q 2014. The position currently accounts for 0.49% of the fund's 2Q portfolio and is down from 1.64% in 1Q14.
Overview of Baidu
Article continues below advertisement
Baidu is a leading Chinese-language Internet search provider. Baidu was the largest website in China and the fifth largest website globally, as measured by average daily visitors and page views during the three-month period ended December 31, 2013, according to Alexa, an Internet analytics firm. Baidu is the most popular Internet search provider in China, capturing 81.6% of Internet search traffic in China in 2013, according to iResearch Consulting Group, a market research firm.
Baidu loses search engine market share
A search engine market share report by CNZZ for August 2014 showed that Baidu continued to lose ground to Qihoo 360 Technologies and Sogou—backed by Sohu (SOHU) and TCEHY. The research included data for desktop and mobile devices. Baidu had a 56.3% share, down from 58.3% in July, while Qihoo had a 29% share, up from 27.5% in July.
Baidu posts robust results on the back of growth in mobile
Baidu's total revenues in the second quarter of 2014 were up 58.5% year-over-year to 11.986 billion renminbi ($1.932 billion). Net income increased 34% to 3.547 billion renminbi, or $571.7 million. Baidu said its 2Q14 "revenue remained on a solid growth trajectory, with mobile as an integral part of our business that is a clear driver of our topline."
Article continues below advertisement
Baidu's online advertising revenues were 11.837 billion renminbi, or $1.908 billion, representing a 57% increase from the corresponding period in 2013. Management said on the earnings call that the company's mobile search service grew to over 500 million monthly active users in June. It added that "mobile revenue, which is largely comprised of mobile search revenue, accounts for 30% of our total revenue."
Baidu said it expects to generate total revenues ranging from 13.42 billion renminbi to 13.78 billion renminbi, or $2.163 billion to $2.221 billion, for the third quarter of 2014. This represents a 50.9% to 55.0% year-over-year increase. Management said it will invest aggressively in its strategic focus areas—namely, search, mobile cloud, consumer business, location-based services (or LBS), and international business.