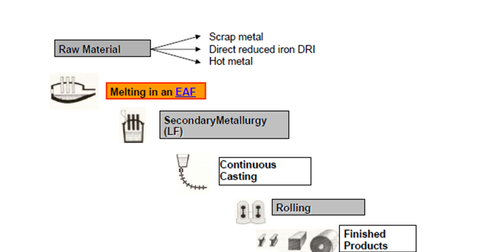 The steelmaking process: Why ArcelorMittal's profit margins fell
By Mohit Oberoi, CFA

Updated
Profit margins for ArcelorMittal
As we discussed previously, Europe, which accounts for more than half of the revenues of ArcelorMittal, went into recession. This severely impacted the profit margins of ArcelorMittal.
The steel industry is highly capital-intensive. There's high operating and financial leverage in this space. Operating leverage means high fixed costs and financial leverage means high interest costs for a company.
Let's find out more about this.
How the steel production process affected ArcelorMittal
Article continues below advertisement
There are two basic types of steel production processes, the blast furnace (or BF) and the electric arc furnace (or EAF) approaches. The basic difference between these two techniques lies in the raw material used for making steel. While a BF uses iron ore as the key raw material, an EAF uses steel scrap for making steel.
Another key difference lies in the costs associated with these plants. A blast furnace has high set-up costs compared to an EAF. So an EAF gives steel companies operating flexibility. As the fixed costs associated with BFs are higher, they severely impact the profits for steel companies in downturns. The reasoning is pretty simple. When production goes down, fixed costs are divided among fewer units. This increases per-unit production costs for companies.
ArcelorMittal produces only a quarter of its steel through EAFs, while 75% of its production goes through blast furnaces. Even U.S. Steel (X) uses mainly blast furnaces for making steel and has performed poorly since 2008. Nucor (NUE) and Steel Dynamics (STLD) mainly use EAFs and have performed well in the current slowdown.  These companies form the investment universe for the SPDR S&P Metals and Mining ETF (XME).
Now, as iron ore is the key raw material for blast furnaces, ArcelorMittal had to secure iron mines to meet its raw material requirements. This became the biggest problem ArcelorMittal faces today. Continue to the next part of this series to learn more about this.